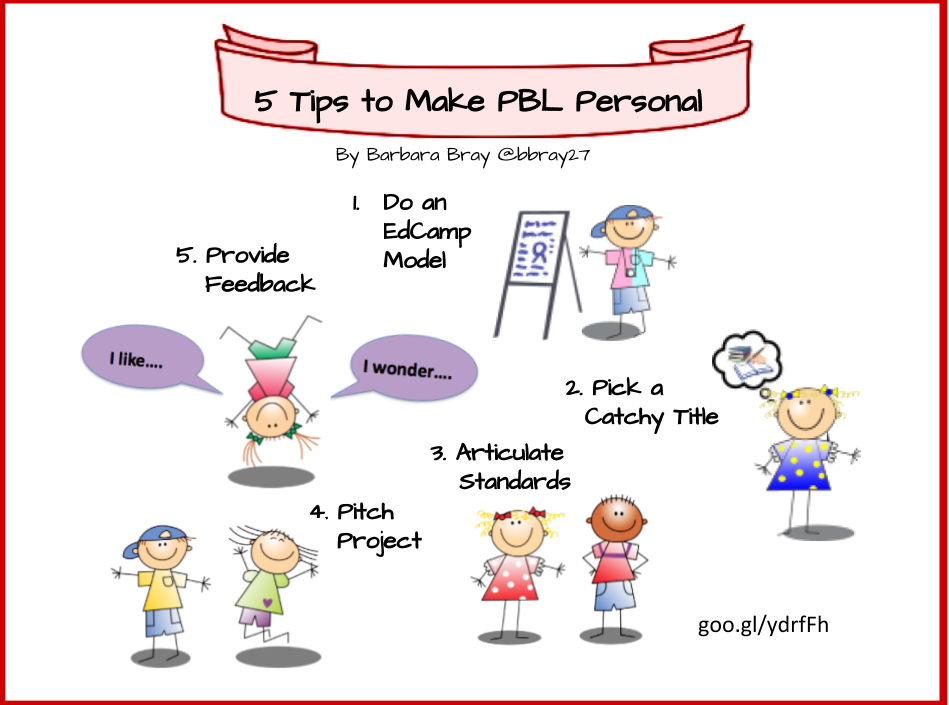 Project-based learning (PBL) incorporates the elements of learner-centered environments. When learners are encouraged to ask questions and have a voice about something they are interested in, now that's more personal than traditional instruction! When kids have a chance to play, experiment, tinker, create and do meaningful tasks, they are more motivated to want to learn. But it is not always that easy for teachers to transform lessons into project-based learning activities. So here are five tips to help teachers get started in making PBL personal:
Do an Edcamp model. Have your kids choose topics of interest or questions around one topic and then share them on flipcharts around the room. Then invite everyone to add their names to the topics that look interesting to them. See what topics get the most interaction and choose the top topics or questions to focus on.
Pick a catchy title. Have kids do research on catchy titles and brainstorm ideas so all group members have a voice in the process. Make sure your learners write the title last after they decide on a topic and direction for their project. Check out http://goinswriter.com/catchy-headlines/ for ideas for catchy titles.
Articulate standards. Have each person in the group either individually or with another person responsible for identifying at least one standard that the project meets. Have them track and share out how the process with the project meets that standard.
Pitch project. Have kids brainstorm what they believe their audience will need to learn and what they will need to know for the project. Have them design or find a way to "hook" the audience with a short summary of what they plan to do. Then have them pitch it to the class for constructive feedback.
Provide feedback. Kids like to help other kids. They can provide constructive feedback using "I like" for kids to say what they found works and why they like it. They can also share "I wonder" for kids to ask a question about how or why something was used. They may even include "What if?" for ideas to try something new.
PBL engages learners in authentic learning activities around real-world problems. These are just a few ideas that I pulled from our book, How to Personalize Learning on pages 118-119. I wanted to share ideas that encourage voice and choice that you could use with a lesson, unit, or PBL.