rethinking learning to bring joy, creativity, and innovation into learner-centered environments
Events
NEW COURSE: Cultivate Learner Agency: Dispositions course http://bit.ly/flyer-agency-Bray-2revs … …  Sponsored by 2Revolutions.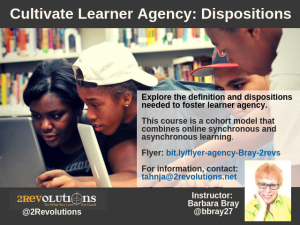 Check out all the new podcasts for Conversations on Learning.
Look for podcasts coming up where Barbara was interviewed: My Bad, the James Rice Show, and ShareMoEd.
1/22-1/25/18: EduCon 2019 in Philly. Barbara will be leading a conversation on Passion-Based Learning.
11/18/18: Panelist for the Spring Foundation on PBL with children in China. . Join us. 
Barbara presented the workshop "Preparing Students for College, Career, and Life" that she and Rose Colby designed at the 2018 iNACOL Symposium in Nashville, TN. 
Free Webinar by Barbara hosted by Don Johnston Inc. on "Learner Agency: Finding Your Why in the Age of Accountability" Archive https://t.co/Ly96P63iIJ
---
Webinar archived Meeting ESSA Guidelines with UDL/Personalized Learning hosted by @EdWeek and sponsored by @itslearning
---
Few Podcasts interviewing Barbara:

Barbara is an author, speaker, podcaster, coach, and change maker who is passionate about transforming teaching and learning. She takes personal and professional learning deeper by empowering agency for all learners. Barbara is ready to be there for you with…
Keynotes/Speaking Engagements
Webinars/Interviews
Podcasts/Conversations/Stories
Playshops and Retreats
Consulting/Strategic Planning
Redesigning Learning Environments
Writing Opportunities
Designing Coaching programs
Twitter chat: Mondays 4 pm PT
Twitter hashtag #rethink_learning