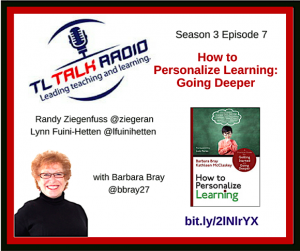 Season 3 Episode 7 on TL Talk Radio (March 7, 2017): Leading teaching and learning with Randy Ziegenfuss (@ziegeran) and Lynn Fuini-Hetten (@lfuinihetten) who interviewed me on change, deeper learning, design-thinking, project-based learning, and facilitating the design of coaching programs and learner-centered environments.
Here is what we talked about:
Let's start the conversation with your latest book, How to Personalize Learning. Can you give us an overview and why educators might want to read it?
We spent the good part of last year defining our beliefs about learning as an organization. One of our beliefs is learner agency. Share with us your thoughts on learner agency and why it's so important for today's learners – young and old?
Agency sounds like what all of us need. What is the challenge that is keeping our learners from developing the skills they need?
We are thinking about a more intentional focus on project-based learning for next year. How do you think PBL can help transform learning?
You are quite busy working with schools! What are the best models that schools and district might wish to learn from?
Share with us what you are currently working on. What are you doing now?
Check out my full interview and subscribe to TL Talk Radio for all of their fantastic interviews.
Podcast: Play in new window | Download
Subscribe: iTunes | Android | RSS
Thanks Randy and Lynn for a lively discussion and asking me to be on your show again!
*****
Interested in checking out the Rethinking Learning podcasts and reflections, click on the podcast tab at the top, the logo below, or go to https://barbarabray.net/podcasts/
For more information about Barbara's book, Define Your WHY, go to this page or click on the image of the book for resources, questions, and links.