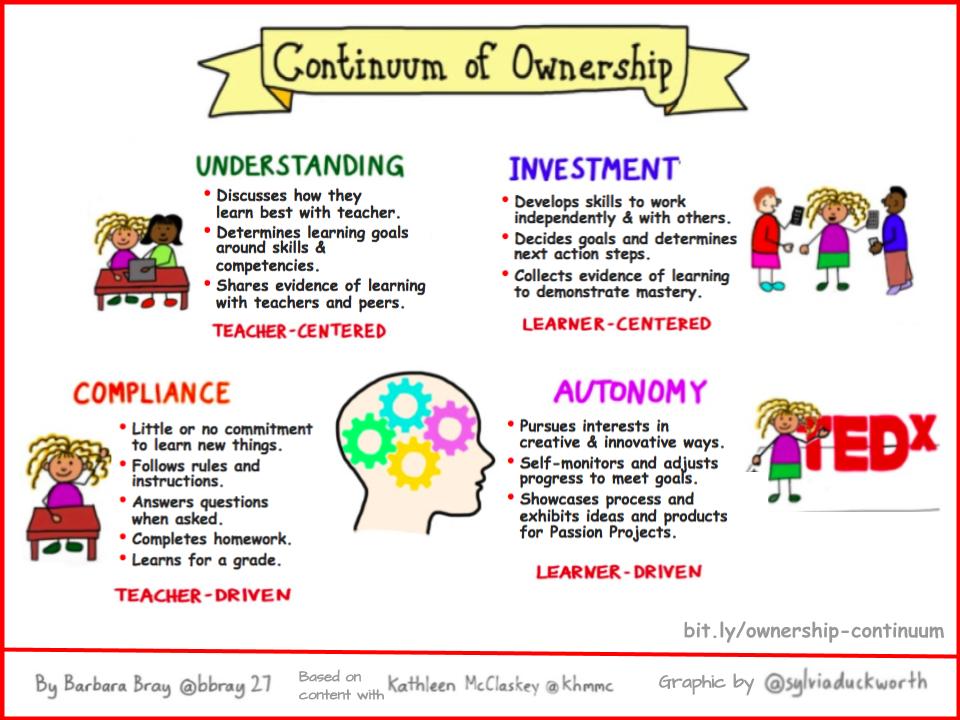 Continuum of Ownership graphic by Sylvia Duckworth with content originally by Barbara Bray and Kathleen McClaskey. Design and content were updated by Bray 2018 and licensed under a Creative Commons Attribution-NonCommercial-NoDerivatives 4.0 International License. 
In conversations that I've had recently with educators and change agents, we all agreed that developing ownership of learning takes time. Most of us grew up in a system that valued sameness and compliance. In fact, many of the change agents I talked to had similar experiences that I had of not having a voice and feeling powerless in their learning.
Barbara McCombs, Ph.D., from the University of Denver, states in her research Developing Responsible and Autonomous Learners: A Key to Motivating Students that motivation is related to whether or not learners have opportunities to be autonomous and to make important academic choices. Having choices allows children to feel that they have control or ownership over their own learning. This, in turn, helps them develop a sense of responsibility and self-motivation.
This approach that McCombs states in her research demonstrate how learners can move from compliance to autonomy by teachers creating a learning environment that provides learners choices and opportunities for growth and ownership of learning. I wanted to make sure it was also important to note that ownership is not only about academic growth. When a learner at any age pursues an interest that they are passionate about, they want to learn and they own the direction of their learning. I updated the details for a learner moving from Compliance to Autonomy to build the self-confidence that he or she can own and drive the learning.
Compliance

In the Compliance phase, learners do not own their learning or may not believe they are the ones that have to do the work to learn. They have no idea that they can own or drive their learning at this phase. This is what most of us as learners experienced because "school" was designed for "students" to follow instructions. Since the late 1800's, a school was designed, the teacher seemed to be the person responsible and accountable for what students were learning. Students didn't feel they had a choice in how or what they learned so they just went along. Did school and do what they were told. When you walk in a class where the teacher owns and drives the learning, the teacher tends to be the hardest-working person in the classroom. You will see walls covered with materials the teacher purchased or created. They are doing most of the talking and learners contribute by doing what is asked of them.
Understanding

In the Understanding phase, learners share how they learn best with the teacher. Being able to write how they learn and include their interests, talents, and aspirations gives the learner a voice in what and how they learn. These conversations with the teacher help validate them as a learner that begins to shift the responsibility for learning from the teacher to the learner. In this phase, learners also consult with the teacher to determine what resources, tools, and learning strategies can support what they need to meet learning goals and tasks. The learner shares evidence of of what they are learning as they learn with the teacher and their peers. In this phase, the teacher with the learner will choose the most appropriate evidence of learning to share and post on the walls.
Investment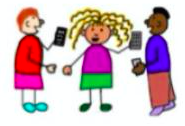 In the Investment phase, learners build confidence in developing the skills they need to work independently and in starting to collaborate with others. They see the value of goal setting with guidance from the teacher to determine next action steps they will need to progress in their learning. They are now more invested in their learning and know how to identify and choose the best evidence of their learning that demonstrates mastery. Walking in a room where learners are invested in their learning looks different. Learners are focused on completing tasks, talk about their learning and are excited about sharing the process and evidence of what they are learning.
Autonomy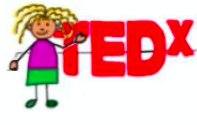 In the Autonomy phase, learners have the confidence and acquired the skills to work independently and collaboratively with others. In using innovative and creative strategies, learners extend their goals to now pursue their interests and passions to discover their purpose for learning. They are determined to self-monitor their progress as they meet their goals. Learners identify something they are interested in and involve themselves in the process to create passion projects. Autonomy means they are learning because they want to learn. When you talk to a learner in this phase, you can hear the excitement in their voices. Learners want to share what they are doing throughout the process and look forward to showcasing and exhibiting the process and products to peers, family, and possibly a global audience. This is what agency looks like.
****
Chris Watkins, an independent consultant and leading authority on meta-learning in the UK and former reader at The Institute of Education, London Centre for Leadership in Learning, has been a researcher on learning over the last two decades. In his research article, "Learners in the Driving Seat," he developed a metaphor to better understand the concept of 'driving' our learning. When driving we have an idea for a destination – perhaps a bit of a map of the territory; we have hands on the wheel, steering – making decisions as the journey unfolds. This is crucially related to the core process of noticing how it's going and how that relates to where we want to be. Watkins makes these four points of what happens when learners drive the learning. When learners drive their learning,
it leads to greater engagement and intrinsic motivation for them to want to learn,
learners setting a higher challenge for themselves,
learners evaluating their own work, and
better problem-solving skills.
When learners have a sense of ownership, they want to engage in academic and interest-based tasks. They are empowered to persevere in learning what they want to learn. If teachers and learners are learners first, then responsibility comes with being a learner. When learners own and drive their learning, they want to become more independent and eventually self-directed learners.
****
I want to give a big thank you to Sylvia Duckworth @sylviaduckworth (
http://sylviaduckworth.com
) from
 Toronto, Canada for designing the graphic of the Continuum of Ownership.
****
Other Continuums Moving to Agency