Vittra: International Schools in Sweden
Vittra is more than a model; it is a design that is being used around Sweden. Vittra runs 30 schools in Sweden and wants learning to take place everywhere in its schools, so it threw out the "old-school" thinking of straight desks in a line in a four-walled classroom. They eliminated all of its classrooms in favor of an environment that fosters children's "curiosity and creativity."
Architect Rosan Bosch designed the school to encourage both independent and collaborative work such as group projects and PBL. Even the furniture is meant to encourage learning. Bosch says each piece is meant to "aid students in engaging" while working. Instead of a classic classroom set up with desks and chairs, a giant iceberg with a cinema, a platform, and room for relaxation and recreation now accommodate many different types of learning situations. The Swedish free school organization Vittra's new school in Stockholm has a physical design that promotes the organization's educational methods and principles.
 Vittra opened Telefonplan School, in Stockholm where Architect Rosan Bosch designed the school so children could work independently in opened-spaces while lounging, or go to "the village" to work on group projects. All of the furniture in the school, which looks like a lot of squiggles, is meant to aid learners in engaging in conversations while working on projects.

Telefonplan has Five Learning Spaces:
The Cave – a space for private concentration to concentrate and enter an introspective process of communication with yourself.

The Lab – fun with experimentation and practical work where you can discover and explore colors, shapes, and materials at different workshops using lab trolleys that make the labs flexible.

The Camp Fire – the group process is one of the most important learning situations because learning is a social process. Children need spaces for large as well as small groups. The groups don't have to be in a closed off area but should be a space where the group can focus.

The Watering Hole – a place for encounters and impulses as a living space full of activity where learners can drop in for a while and then move on.

The Showoff – where learners can show off their progress and discoveries. A stage, a presentation, a drawing on the wall, a film or a blog – all ways of showing off their work.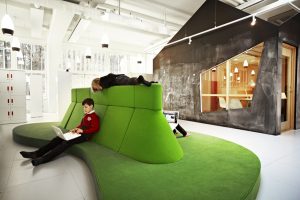 Vittra schools reach kindergarten through twelfth grades. So why do they say "schools without classrooms?" One thing is clear from Vittra is that opening the walls, moving furniture or changing the furniture and allowing flexible places encourages creativity. It works for all ages.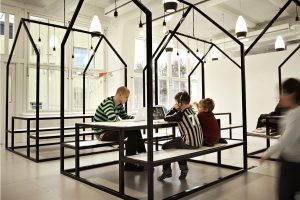 The un-schoolness doesn't stop with the furniture and layout. 
Vittra gives every individual the opportunity…
to find the best approach for them
Children play and learn on the basis of their needs, curiosity, and inclination in the best ways possible.
to learn based on experience
Children's learning is based on their experience which increases motivation and inspires creativity.
to understand their own learning
Children are equipped with the tools to acquire new knowledge and increase understanding of 'How I learn', which enables them to learn more easily and effectively in the future.
to have faith in themselves and their abilities
Children become more self-aware, aware of their strengths and potential for development which means they dare and like to be challenged.
to develop their ability to communicate and engage in respectful interaction with others
Children understand and are considerate to the needs and interests of others, they can express and stand for their own views as well as take responsibility for their actions.
to be equipped for study and work in an international environment
Children develop effective bilingualism in English and Swedish while experiencing and creating international contacts through networks and exchange programs abroad.
The schools are non-traditional in every sense: there are no letter grades and learners learn in groups at their level, not necessarily by age. Admission to the school is free, as long as the child has a personal number (like a social security number) and one of the child's parents is a Swedish taxpayer.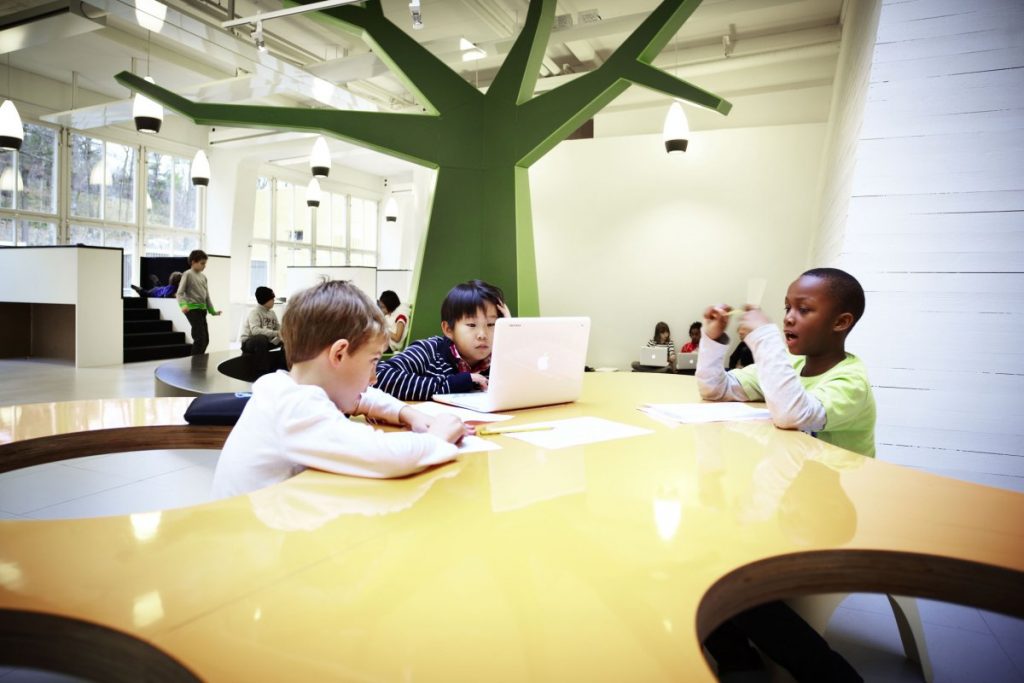 The focal point of the school is its mighty "tree," which serves as a meeting place for all students and unites the other elements in the school.
****
Interested in checking out more of the Rethinking Learning podcasts and reflections, click on the podcast tab at the top, the logo below, or go to https://barbarabray.net/podcasts/
For more information about Barbara's book, Define Your WHY, go to this page or click on the image of the book for resources, questions, and links.