blog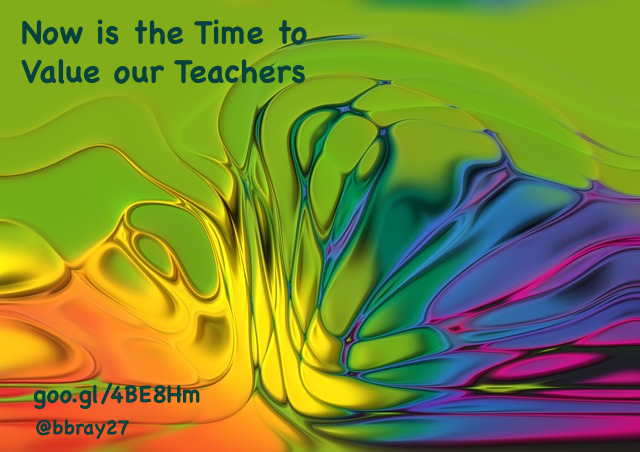 I'm so upset. I watched the news about California teachers and education today. They mentioned the teacher shortage, but the reasons they gave didn't even touch on what is really happening to teachers and education around the country. When they said that California has the most crowded classrooms and highest teacher to student ratios in the country, I'm not sure others around the country have a clue what this means. We're talking 25 to 30 little ones in K-2 classes. In some high schools, math classes are over 40 for each teacher. Secondary teachers are responsible for up to 150 kids and teaching multiple subjects in 45 minutes periods. I don't know how they do it.
By 2013, the state's student-teacher ratio had reached 24-to-1,
compared with the national average of 16-to-1.
Report on Teacher Shortage in Mercury News, CA 1/23/15
On top of that the focus of education has been wrong for the past 12 years and longer. Teachers are the ones held accountable for the test scores, so why would kids care about the tests? The focus on testing has taken away the love of learning and frustrated teachers, administrators, kids and parents. We have a generation of people who went through this system who think this is the only way to learn. The focus hasn't been on learning–it's been on meeting test scores and instruction not on who we should be focusing on: each learner and supporting how they learn. Teachers are more like middle managers jumping through bureaucratic hoops and accountable for test scores and grades.
Now this is going to change, but not many people are aware of it changing or want it to change. They only know what they know or have been exposed to. Teachers are burning out and leaving the profession. It costs more to keep training and retraining teachers. There has been so much professional development on how to teach to the test, manage classrooms, and other mundane tasks that people who went into the profession feel dummied down. There is a sense of "compliancy" built into the system that blocks creativity and fun. We all need to have some fun when we learn. Let's get it back!
The report was talking about districts offering a $10,000 bonus for new hires, but that won't take care of the other issues or bring in the right people to the profession. The teaching profession is less and less attractive to Millenials (18-34 year olds). Many realized they didn't care for school, just learned to "do" school to get out of school, or they just don't want to be part of it. Many of them were in the system when testing went crazy. They also want to be more in control of what they do, be respected and valued by members of their community. Millenials tend to be skeptical about systems and also are concerned how they can pay their bills. Housing costs in California and other parts of the country are skyrocketing. A one time bonus won't pay the bills. A majority of the Millenials have extreme student debt, a degree that doesn't get them the right job and other reasons why they just don't trust the system. There are many who dropped out and taught themselves skills in the technical field — all on their own taking classes online or watching YouTube. Why? Because in the Bay Area that's where the jobs are along with bio-technology, robotics, etc.
So what can we do about this problem?
Look at the teaching profession like Finland did in 1983. They had the same issue and realized they needed to turn everything upside down. Teachers needed to be valued, supported and highly respected compared to other professions. So Finland changed the teaching profession. Kids start school at seven. They got rid of standardized tests except one at the end of high school. They built a system of support for teachers and pay them well. Read "What ever it takes" Smithsonian.
Now with the new ESEA re-authorization from the Department of Education, we will be focusing more on learning. There is a surplus of funds in California and more money will be going to school districts. Let's do it right this time.
I'm going to put a plea out to superintendents and school boards: Stop spending money on "stuff" and rethink how you are going to rebuild your most prized resource: teachers! Here's some ideas:
Rethink teacher education and build or partner with K-12 laboratory schools so the focus is on learners right from the beginning.
Increase salaries for teachers so the profession is competitive with other professional services.
Provide mentoring and ongoing coaching support for teachers.
Build in collaborative time every day and encourage co-teaching models.
Develop communication plans that showcase learning not increased scores.
Build partnerships with businesses, non-profits and higher ed to support a competency-based system.
Look to retired educators to work or volunteer as advisors or mentors.
Offer ongoing job-embedded professional learning opportunities for all teachers.
The reason why I focus on personalizing learning is because we are all learners. When we stop learning, what do we have? It is about building the capacity to want to be lifelong learners and never lose that curious part that makes us who we are. Every moment can be a learning opportunity. But when school is tied to rewards and punishment, grades, and extrinsic forces, why would anyone want to be part of that type of system?
Who's with me? Let's all work together to change the system, focus on our learners, bring back creativity, joy, and fun and value our teachers.
Are you a human being or a human doing?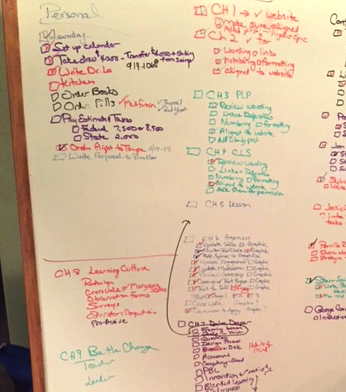 I have a to-do list that would drive anyone nuts. When someone asks me how I am, I tell them all the things I'm doing. I check off tasks on my list and more tasks show up. I have a large whiteboard where I'm trying to keep track of each business and personal task. Not to scare you, but this picture on the right is only one part of my whiteboard and what is due in two days.  I also have post-it notes all over, an online calendar with tasks, and note-taking tools.
I think I'm organized but several re-occurring tasks are to file, organize my office, and clean up files in my computer.
Do I do it?
I start. Then I look at all of my other tasks on my whiteboard and go back to another task that I feel is more important and urgent. You know what I mean. I try organizing everything by putting each task in the following categories:
Important and Urgent
Important Not Urgent
Urgent Not Important
Not Urgent and Not Important
Why do I feel everything is important and urgent? Prioritize — Prioritize — Prioritize
UGH! Maybe I need to put different things on my list. Even my personal tasks focus on doing and working. I have on my board to clean the oven (check that one off because I did that because it's a self-cleaning oven — Yeah!), vacuum (which I actually like doing since I can see results right away) or wash bed (okay did that too). I know I sound like a cleaning freak, but it's on my list.
So how do I put "fun" things on my to-do list? I need to redefine who I am. How did I become this human "doing" things instead of just living and enjoying each moment? Maybe I enjoy this. mmmmm….. or do I?
I do it to myself. It's all about choices. Do I need to add more to my list? Not really. It's something about my worth. The more I do I feel I am accomplished. Tired, but accomplished. I do have to do these things or come up with another way to either get these things done or change due dates.
What I'm worth is really not about all I do. It should be about who I am not what I do. I'm not ready to give up my whiteboard and lists, but I'm putting ME on the top of the list. It's time to take time off for me.
So this year my resolution is to be a human being not a human doing. I can do it. Wait a minute, I have to reply to an email right now and mail something and pay my estimated taxes and .. and .. and..
Oh no! Anyone else like this?
What is Learned Helplessness?
When people feel that they have no control over their situation, they may begin to behave in a helpless manner. This inaction can lead people to overlook opportunities for relief or change. 
Now I know this video above is taking the idea of "learned helplessness" a little too far, but it gets the point across.  Consider a child who performs poorly on math tests and assignments will quickly begin to feel that nothing he or she does will have any effect on math performance. When later faced with any type of math-related task, he or she may experience a sense of helplessness. Some call this a fixed mindset.  [Source]
Here's a little history of the "Learned Helplessness" Theory

There are also situations where you may induce "learned helplessness" in school or personal relationships. This is an activity that a teacher did with learners after discussions on relationships.
Now let's take this idea of "learned helplessness" and what this means about learners being compliant. Think about your high school kids who just want a grade. Have you heard them ask "what are the points?" "what do I have to do to get an A?"
It's about that intrinsic motivation to want to learn. We've embedded this behavior as part of the system starting even in pre-school now. The responsibility for learning is all on the teacher who is now help accountable for what kids learn. Teachers, too, can have this "learned helplessness" feeling about what they do in the class. I've heard teachers say "but I have to teach to the test" or "I have to cover the curriculum."
We need our kids to be able think on their own, drive their learning and be the ones responsible for what and how they learn. It is about the idea of encouraging learners of all ages to believe they can do things — that they don't need others to do something for them if they are capable. It is about changing mindset but that's for another post.
We can change our thinking, model growth mindset and  what it means to believe in ourselves. What do you think?
What do Electronic Payments have to do with Education?
I was watching "Press Here" a local program that shares technology trends where they discussed electronic payments. All of this made me think about how companies are changing how we interact with money and what that will mean for our future. Then I put two and two together on the use of algorithms and what that means for our children. I wanted to share some of the new advances for mobile payments where companies use the label "personalization" before I bring up the use of algorithms in education.
How many of you have used Uber or Lyft? Think about how easy they are to use. You sign up to one of them or both and need a ride somewhere. You pull up one of the apps and there you are on the map with several cars nearby. Choose one! Then a few minutes later the car is at your door. No money changes hands — at least that you have to do during that event. It is all behind the scenes on your phone attached to your bank account.
Consider what this means for electronic payments in the future?

Will this affect everything including education?
(I write about this at the end of this post)
Here's a few more apps that are changing the way we pay for things:
There is an app called paybyphone that lets you do just that in the US and Europe.
Download the app
Enter your location code you wish to park in
Enter the time you want to stay there
Extend your time from anywhere using app
paybyphone offers you multiple ways to signup or use their service: online, through a text, or even by phone.
sessionm is a mobile marketing cloud platform integrating what you are doing online and in social media to build brand loyalty and personalize your experience.
Why am I talking about this now when mentioning the future of payments? sessionm is in the background of many of your payments. One I want to talk about is Starbucks. You go in to Starbucks and purchase a specific drink that you tend to order a few more times. This behavior is now part of the data Starbucks collects on you. In the future when you walk in the door, up comes your most recent purchase. You may end up getting points or rewards based on your behavior.
This is called mobile marketing automation with "personalization" and data management to act in real-time at the moment of impact.
mmmmmm….. Think there's a few more I need to reflect on before talking about "personalization"  and education. 
Metromile offers pay per mile insurance that could save you money if you don't drive that much. Then they go steps further by powering smart driving that can…
Track and optimize your tips.
Always know where your car is parked and best way to get there.

Get a diagnosis of your car's running condition.

Street sweeping alerts in some cities.
There are also ways to get "personalized" recommendations with companies that offer a flat or annual fee program for unlimited ad-free access to products.
Flat fee payments for movies with Netflix so I can watch as many TV shows, documentaries, movies and more that I want when I want to.
One annual fee for Amazon Prime so I can get free shipping and discounts on products, movies, and books. There are options now for monthly rates for Prime Music, Prime Photos, and Kindle Owners Lending Library.
I just received a Plenti card that is a rewards program that gives me points with multiple companies: Rite Aid, AT&T, Exxon, Macy's, Mobil, Nationwide, Direct Energy, Enterprise, and Hulu.
Okay – now why am I talking about money and "personalization"? It's because companies want to "personalize" your shopping experience.  They are using algorithms to give you points, rewards, recommendations, offers and more based on your behavior. This is PUSH technology as its best — or is it? We are going to see more and more of this in forms like Plenti and be connected in ways we will never know. But we need to be careful who we give our personal data and track what they do with it.
Have you received recommendations for a book or movie
that you definitely would never read or watch?
Remember the algorithm these companies use is based on your behavior not what you think. You may be clicking around just to see a different movie that is not in your comfort zone. Then look on your list of recommendations and you see more like it. Is that really "Personalization?"
Now I need to bring up "personalization" and what that means for education like I asked at the beginning of this post. Don't give up on me yet! 
There are companies who are using algorithms and data in the background to "personalize" our children's learning experiences. This type of programming is called a "adaptive learning system" where a learner typically answers a multiple choice question and moves to the next question based on their answer.
The concern I have is that one company in particular, Knewton announced in their press release that its "adaptive learning system" will be available to anyone and that it allows teachers to upload their quizzes and tests. Teachers really don't have to be involved in assessment according to Knewton. Now Knewton can use the algorithms to grab the data and "assess" the content for each learner.  Now, this is why I'm writing this post and want you to be aware of companies like Knewton. I read the following quote on Audrey Watters blog HackED "The Algorithmic Future of Education":
"We literally know everything about what you know and how you learn best, everything" Jose Ferreira, Knewton CEO and Founder says in a video posted on the Department of Education website. "We have five orders of magnitude more data about you than Google has. …We literally have more data about our students than any company has about anybody else about anything, and it's not even close."
Watters writes:
"The way that Knewton describes it, this technology is an incredible, first-of-its-kind breakthrough in "personalization" – that is, the individualization of instruction and assessment, mediated through technology in this case. "Personalization" as it's often framed it meant to counter the "one-size-fits-all" education that, stereotypically at least, the traditional classroom provides."
No — No — No!!!
This is not "Personalized Learning" and is not the same as the companies I listed above who are "personalizing" marketing strategies. Our kids are not driving the learning or a part of this hijacking of education. Ferreira's idea of knowing how learners learn best is not based on research or on neuroscience on how we learn best.
Don't fall for it!!!
Read these posts:
Our kids need the skills to know when they are being manipulated so they can take control of their learning and their life. They also need to know that if they get a recommendation from a company to purchase something, they don't have to buy it. They need to be skeptical, curious, and critically consider what will be best for them. That's our job as educators. It's about encouraging learners to have a voice and choice so they are intrinsically motivated to want to learn.
Let's help them navigate the new world of payment and what some call "personalization." But let's be clear what that means for teaching and learning and fight for our kids so they are the ones personalizing their learning experiences with teachers guiding the process not a company that is using their data to tell them that they know best how they learn.
We need kids that are not "compliant" following the leads from a company based on clicks. They are so much smarter than we give them credit. We need to encourage learners at a very young age to learn how to learn, to reflect on their learning and to be the ones in control of their learning so they are lifelong, self-directed learners.
All of us were born passionate learners. We came into the world curious about everything around us. We had a strong desire to want to talk, crawl, and walk. Watch a toddler take their first step, and you see passion-based learning. Listen to a musician practice a difficult piece until they are ready to perform. Watch a skateboarder try a new trick over and over — that takes persistence and passion to not give up.
You don't always see that same type of passion in "school." In many cases, school has been associated with pacing guides, required curriculum, grade-level standards, bell schedules, grades, and teaching to the test. In these situations, the teacher or the administration are the ones in control. The teacher tends to become the one held accountable for the learning. Yet to really LEARN something, the learner needs to own and drive their learning.
The focus on teaching and doing work that wasn't relevant to me changed my thinking about who I was as a learner. I learned to play the game of school and "do" school so I could get "through" school.
Why do we have to change school to focus on passion-based learning?
School changes what kids believe what they are supposed to learn. If you ask kids around 3rd or 4th grade what they are learning in school, you might hear answers around how to behave, be a good listener, or how to do well on a test. We learned how to be compliant and follow the rules. Is this really what we want as the focus of school?
Now it's time to bring back creativity, joy, and focus on the power of passion for learning.
A few suggestions from some awesome educators to encourage passion-based learning in your school:
1. First few days of school.
Get to know your learners right away before you start teaching. Every teacher and learner deserves a new opportunity to achieve. Consider waiting at least two weeks before jumping into academics. If you already started teaching academics before getting to know everyone, pull back. Check out Rich Czyz's ideas for the First few days of school 
2. Get to know your learners and their interests.
Invite your learners to share what they are interested in and their talents and aspirations. Have you ever thought of spending time one-on-one with each learner maybe schedule a lunch date? Ask them to start a journal or portfolio so they can share stories of their interests. Check out Michael Wesch's Journey to the Joy of Learning so you too can see each learner differently.
3. Share interests.
Ask learners to do a pair/share where two share with each other what they are interested in. Invite them to ask each other:
What are three things you are really interested in?
Why did you choose each of those?
Which one excites you the most? Why?

Then have them choose one with the help of the partner to share their first choice with all learners in the class. Encourage the class to ask questions and provide feedback with these two prompts
I like…
I wonder…
4. Explore interests.
Encourage them to explore their interest and how it might have a connection to the real world. Since you are probably still a part of the current traditional system, invite your learners to connect to required standards. Have them create a mind map of their interest and ways they can connect to what they know, what they have to learn, what they would like to learn, how they could demonstrate that they learned, and what questions they might have.
5. Identify a real-world problem.
Sometimes learners cannot connect their interest with a real-world problem. You could start with a problem where they might be able to make a real difference if they could solve that problem together. Walk around your school and go outside to observe what is around you. You and your learners may find a problem or issue you never thought about before. This is called "generative curriculum" which means coming up with questions and direction for learning as you learn.
6. Plan learning.
Let them plan together or individually using the following 3 questions from George Couros that drive Passion-Based Learning from his blog, The Principal of Change
What will I learn?
What will I solve?
What will I create?
7. Make learning meaningful.
Dr. Jackie Gerstein, Ed.D [https://usergeneratededucation.wordpress.com/ ] shared experiences where she noticed that there was a problem with how she was being asked to learn. She was cramming and memorizing information, being tested for mastery prior to having enough practice time and learning facts with no context or relevance to what she needed to learn. In her post, she hit the nail on the head when you wrote, "The unintended consequences of these artificial and unnatural ways of learning include believing that learning should be difficult, painful, disciplined, and not fun. She also discussed the importance of context as relevant meaningful tasks.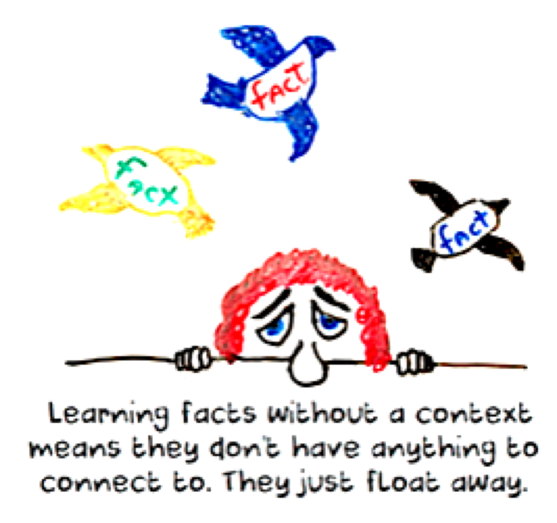 "Learning can and should be natural, fun, and engaging." @jackiegerstein.
I agree with Jackie that learning has to be meaningful and have a purpose.
[Source www.personalizelearning.com/2015/04/learning-can-and-should-be-natural-and.html]
8. Build a new culture of learning.

Give good reasons for learning. Watch this video from Dr. Tae about the culture of learning  with secondary science teachers and university professors. What is the secret to learning? Real learning is mostly self-motivated paired with the right mentor.
Read Terry Heick's article Promoting a Culture of Learning  that walks you through using a gradual release of responsibility model:
Show Them
Help Them
Let Them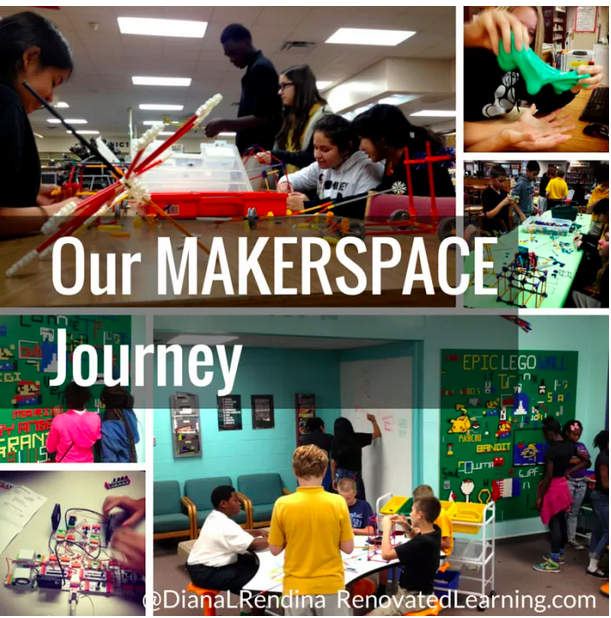 9. Create a Makerspace.
Diana Rendina, Media Specialist/School Librarian at Stewart Middle Magnet School in Tampa, FL transformed her library to serve as an informal STEM learning space for her learners. Check out Renovated Learning to follow her Makerspace journey.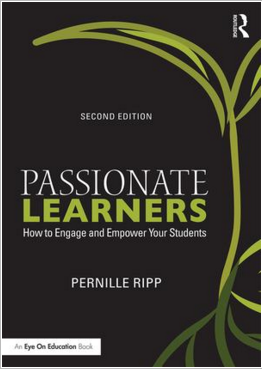 10. Develop Passionate Learners.
I highly recommend that you read Pernille Ripp's book "Passionate Learners." Pernille, a 7th grade Language Arts teacher at Oregon Middle School, Oregon, Wisconsin,being met. She then listened to their answers and tried to develop pathways writes her story how she had almost quit teaching because she didn't like the teacher she had become. She started by asking her learners which needs they have that are not that may include their requested modifications.
---
Example Passion Projects
Julie Rogers Bascom, Service-Learning Coordinator for Edina Public Schools in Minnesota, shared with me how the following year-long Passion Projects engaged learners in authentic real-world activities. [Edina Service Learning http://www.edinaschools.org/domain/78]
All 680 tenth grade learners in Edina High School's Pre AP Language Arts Class engaged in a year-long Passion Project, digging deep into their interests as a way to meet learning standards.  Each learner chose a topic of importance, researched and investigated the theme they chose and wrote a ten-page research paper. As part of this course, each learner took action for an identified problem in their area of interest. One learner who is interested in computer science held an e-waste collection, filling two semi-trucks with electronic waste, diverting the waste from the landfill. One learner, concerned about clean water for a village where her grandparents live, designed a water filter that would help filter out excess fluoride from wells in rural India.  Another learner, having been a foster child, lobbied for awareness and advocated for resources for foster families.  Following the service-learning cycle:
IPARD – Investigation > Planning > Action > Reflection > Demonstration, learners used their knowledge and experiences from their research to solve community problems by engaging in authentic service-learning. 
When you look at the bigger picture, it all comes down to one thing: passion to learn and changing the focus to learning not on teaching. This has been my mission for over 25 years. Now I'm finding more and more examples of passion-based learning. Julie's example of service learning is more than an assignment. The learners found a problem they were passionate about and used critical thinking skills to solve it their way.
---
When I think of all the educators I know who stretch their thinking and go the extra mile like Diana, Julie, Rich, Jackie, Pernille, and George and others, I know that no one can transform education alone. We all need to share and learn together. I found my purpose. It is to learn all I can about learner-centered environments, connect to others who believe all learners can learn their way, and share their stories of transformation of "school" to cultures of learning. I wrote this quote over ten years ago…
"Go with your strengths and interests, find your passion and, then discover your purpose."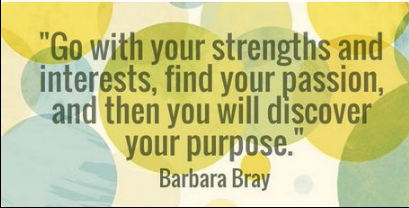 I am thinking of changing that last part to "and your purpose will discover you."
Has your purpose found you?
[This post was created for an article in the Fall OnCUE 2015 issue]
There is a lot of talk going around about "personalization" and "personalized learning" harming kids. We need to clarify this NOW. It's time to put the "person" in "personalization" and stop the conversations going in directions that take us off course.

Elliot Washor (@elliot_washor) shared about this concept of  putting the "Person" in "Personalization" in his post and webinar on April 2014.
"There is a great deal of discussion and a strong ramp up of what is called "personalized learning" in schools both with and without technology." Where is the person in personalization? What are the expectations that students have for deep productive learning?"
This idea that Elliot shared still needs to be expanded. We need to focus on our learners and learning and take semantics out of the conversations.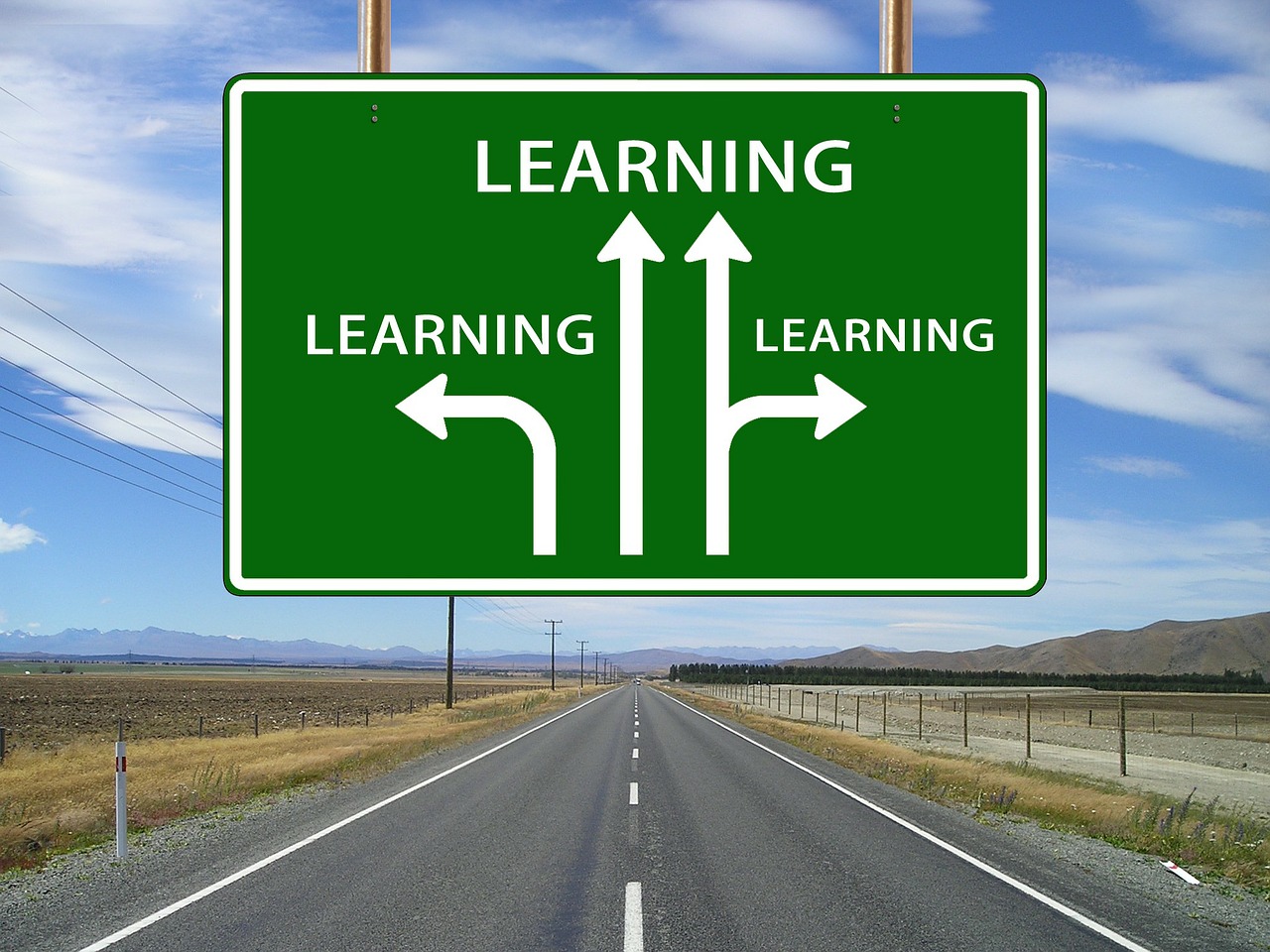 Free for commercial use / No attribution required
Right now it's so easy to be pulled in different directions and think you have to take one side or another about the terminology. Consider yourself as a learner and what you need. Yes – technology makes it easier to access information, engage with the content and express what you know. Mobile devices make everything available at your fingertips just when you need it.It's not about technology. It's not about the test or improving test scores. It's really not about school. It's all about the learner, how they learn best and that what they learn is meaningful and for a purpose.  It is all about the relationships that learners make and need to support their learning. It is also about the teacher – a valuable person in the relationship. Teachers and learners can work together to develop learning goals and design activities that are authentic and relevant for the learner so they are engaged in learning. Learning has to have a context that learners can grasp and understand. And, of course, an important person in the relationship is the parent who wants the best for their child but they may not know how to support their learning.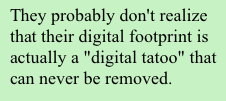 Here's the catch: today's kids brains are wired digitally, so they will figure out how to use the tools by experimenting or teaching each other. What they need is to acquire the skills to choose the appropriate tools for the task. They also need to understand who they are, how they learn best, and how to be global digital citizens. They probably don't realize that their digital footprint is actually a "digital tattoo" that can never be removed. They need to become self-aware of who they are, how they learn best, and be aware of what they do online can affect them and impact others.
When we put the focus on each learner and how they can own and drive their learning, then we see engaged, self-directed learners with agency. They become the ones responsible for the learning. Isn't that what we want?
Our traditional education system was designed to create compliant workers who follow orders. That's why it looks like a factory model. This isn't working anymore for today's kids, but that's all we know and how most of us were taught. Teachers also think they have to teach like a champion because they are the ones responsible for the learning. Don't you think that this is backwards? Teachers are an integral piece of the puzzle, but the focus has been on curriculum, teaching to the test, and teaching subjects instead of kids. When we focus on learning and not on curriculum, teachers roles change. We still can teach to standards but let's involve learners in the process and give them a voice so they own the learning.
The system is changing now because it has to change. Our future depends on it. Consider this quote from John Dewey:
"If we teach as we taught yesterday,we rob our children of tomorrow."
It is our children's future, not our past. So what that means is that what we know about school will have to change and change is scary. That's why we understand the discourse about the terms. There are companies that frame "personalized learning" as adaptive learning systems using algorithms to choose the right path for learning. So let's end this blog emphasizing that learners need to be the ones who choose their path with their teacher guiding the process. It is about encouraging learners to have a voice and choice in their learning. It's happening now all over the world.
There will be more stories of learners being empowered and teachers who are excited about how engagement and motivation has changed the landscape of learning. This is just the beginning of a new world of learning and it's time to put the "Person" back in "Personalization."
This is a cross-post of a blog I wrote for Personalize Learning.
I love the idea of making, inventing and tinkering. Just watch kids who are immersed in the activities and you can see the engagement. But is the learning authentic and relevant?
I presented three sessions at the Free Maker Movement event at One Work Place on Wednesday, September 30, 2015 with some amazing educators who presented hands-on activities. The event will took place at our Oakland Center for Active Learning .
I decided I needed to spend some time researching where the Maker Movement was happening and find examples of authentic learning. This gave me the opportunity to talk to several of my friends and share how they have transformed learning spaces to Makerspaces. Everyone I talked to made a point that it is about creativity not consumption. Yet when I went to different Maker events, I saw activities that an adult set up, purchased a kit or provided directions for activities. They were all fun, but I was having trouble seeing the connections to real learning or any ownership from kids.
---
I read Jackie Gerstein's post: MAKE STEAM: Giving Maker Education Some Context where she wrote "recent discussions with other educators and administrators made me realize that the idea of maker education is often vague and seems unrealistic in terms of regular classroom instruction."  She shared her thoughts of Maker Education in the context of STEAM (Science, Technology, Engineering, Arts, Math) where teachers integrate maker projects into their classrooms. Read her blog and check out the Thinglink by clicking on the dots for more information.

@jackiegerstein
---
I reached out to Shannon McClintock Miller, @shannonmiller, who is a Teacher Librarian at Van Meter Elementary in Iowa. Shannon stretches the imagination of children and manages the Library Voice as a place to be heard through creating, technology, connecting, reading, collaborating and noise.  I love her quote:
"We as librarians and educators and as people
who care about young people need to CHANGE!"
Shannon emphasizes the power of story where learners can play with content, media, narratives, remix, mashup and then tell their story. She encourages her learners to connect to the story in different ways: Skype with authors, create their own stories, and publish eBooks. One learner loved the "I Spy" books and wanted to Skype with the author "Jean Marzollo so Shannon set it up. What came out of the Skype was for learners to create their own "I Spy" book for Van Meter School.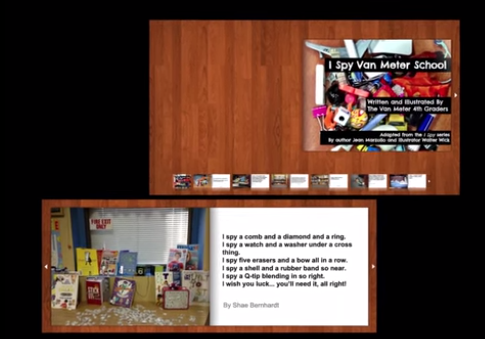 Shannon redesigned the library to move to creative, innovative spaces: Makerspaces around the concept of stories. Learners took their iPads and used an Augmented Reality program, Layar, to add multimedia to texts, posters, and books. She found different apps and organized them in a Digital Makerspace using Symbaloo. After pulling together different Makerspace activities, Shannon wanted a way to provide opportunities for making in the classroom.  So she created Makerspaces Mobile bags that teachers could pick up and use in their classrooms.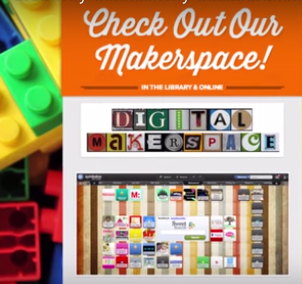 ---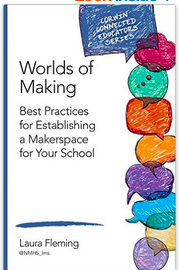 Laura Fleming, @NMHS_lms, is a Teacher Librarian at Milford High School in New Jersey who is a strong advocate of using New Media and Vanguard Techniques for Interactive and Transmedia (multi-platform) Storytelling. Her website is Worlds of Learning.  She wrote the book World of Making where you can find invaluable guidance for creating a vibrant Makerspace on any budget. The book includes practical strategies and anecdotal examples that help you:
Create an action plan for your own personalized Makerspace
Align activities to standards
Showcase learner creations
Laura's goal is to create learning experiences that empower and equip students with necessary skills to effectively produce and consume content across multiple media platforms. She went from K-8 to the high school to a library that was very traditional that was under-utilized.
In less than two months she transformed the library by just adding activities aligned to classroom instruction. She even used DonorsChoose to purchase a 3D printer and provides multiple suggestions to build your own makerspace.
---
Diana Rendina, @DianaLRendina,  is a Media Specialist/Librarian at Stewart Middle Magnet School in Tampa, Florida. Diana is passionate about school libraries being places for students to discover, learn, grow, create, connect and collaborate. She shares her journey on her blog, Renovated Learning: Building a Culture of Creativity and Discovery in Education.  She has worked to transform her school's library from a quiet, dusty, cluttered room into a vibrant and active learning space where students want to be.  In 2014, she created a Makerspace in her library to serve as an informal STEM learning space for her students. 
Diana shared how their Makerspace has changed, grown and evolved since it was first conceived and started in January 2014.  Follow along with the story of their journey here.  Hopefully it will inspire you to start your own Maker journey.

---
This is just the beginning and a short overview of how libraries are transforming to Makerspaces. But one thing I did find from talking to Jackie, Shannon, Laura and Diana is that the librarian's role is changing and Makerspaces can connect to learning. The Library is changing and bringing stories to life. Makerspaces can be digital and mobile. If Teachers and Librarian/Media Specialists collaborate on curriculum design, projects can be integrated in to STEAM and other curriculum activities. So this is just the beginning of my investigations how these Makerspaces can expand authentic learning activities.