3
Transforming an Elementary School
Lucky me! I am working with Garfield Elementary school in San Leandro Unified School District. I started my career, my love of technology, in San Leandro a long time ago, so this is like coming home again. Jan Nuno, the principal, designed a creative program with her SIG (School Improvement Grant) money that involves laptops, SmartBoards, Elmos, professional development, using My eCoach for grade level websites and projects, and support on-site and online. The goal is one step at a time, and the teachers are excited about taking these steps. Garfield teachers have grown so much in a very short time: last year the worked on developing PLCs (Professional Learning Communities) and CRT (Culturally Responsive Teaching). Now they want to infuse technology to not only motivate stu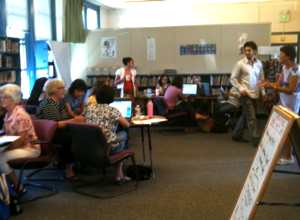 dents to want to learn but to change the learning environment.
The tech leads are Neema McCockran and Jason Huls with a teacher leader at each grade level who we spent a whole day reviewing the technology and developing grade level websites that includes grade appropriate resources and places to collaborate with the other teachers in their grade. We made one website and then asked each teacher leader to clone and adapt it for their team. Then we returned a week later with the whole staff (30 teachers) and asked the teacher leaders to invite the other teachers in their grade level to co-author. Then Jason and Neema set up three 15 minute break out sessions  where teachers rotated to learn how to use the Elmo, set up their laptops, and how to edit in My eCoach. (whew!) It was pretty cool! I was really proud of Neema and Jason and all the work they did. Coaching is fun when you see people take the next step on their own. I felt like a proud mama.
Next steps are coaching and knocking occasionally on the teachers' virtual door to check in and see how they're doing.