"I think I'm like many teachers: most of us feel like we haven't yet arrived where we want to be in terms of what we're doing with students. I have so much further to go and I really want to do more work that infuses rigor and relevance in the curriculum and connects my students to both their communities and the French-speaking community."    Nicole Naditz
My search for student-centered learning environments led me to Nicole Naditz who teaches French at Bella Vista High School in Fair Oaks near Sacramento, California. Our conversation first started about flipping the classroom. She wrote me:
"I'm still a novice in terms of fully turning over my curriculum to the students, but I'm always striving to work more in that direction. In the meantime, I work hard to ensure that what their learning is put to meaningful use, is rigorous and engages them with the French-speaking community beyond our school.
For the online projects with other countries, I have typically designed them in cooperation with the other teacher, although my students always have significant input. I tell the students to write a book encouraging children to eat healthfully. After that, they are free to create. The best books are sent to France or Belgium to be put in the waiting rooms of children's areas of hospitals or dentists.
That's when I knew Nicole was moving into the student-centered world even if she didn't realize it. Email after email, I received specific projects from Nicole.
Preparing for Collaboration with Burkina Faso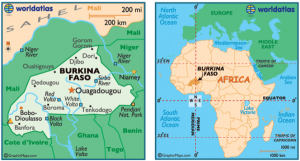 For their work with Burkina Faso (the village has no input), Nicole had an idea called 'Through their Eyes' about students in both California and the village in Burkina exchanging pictures of how they see their world and lives. Burkina Faso, in West Africa surrounded by six countries, was occupied by France up to 1960. It is currently a member of the African Union and La Francophonie.
The students ran with it from there, taking the pictures, explaining them in French, creating the photo album and selecting other items to send to the students and school along with their pictures. In the box with the photos, they also included some student work from French 3 (student-created "magazine" about French-speaking comic-book characters) and disposable cameras for them to use for their pictures. The students also wanted to send hot chocolate since no one in the village has ever tasted it except for the volunteer. French 4/AP is now matched with a new Peace Corps volunteer in Burkina Faso. The village where she works does not have Internet (or any electricity) but she can access Internet when she goes into town. One day, while she was in town, we decided to go onto Ustream and introduce ourselves to her. We recorded it and sent her the link because it wasn't possible for her to watch live. 
http://www.ustream.tv/recorded/17872769
.
Nicole's students haven't yet received their cameras back to get their pictures. This is a very slow process without Internet!!!
Student-Created Museums
Two student-created museums were done by  classes at the Alliance Française de Sacramento. Hosting the museum at the Alliance guarantees they will get at least some other French speakers for whom to present instead of just presenting to the teacher in class. Nicole believes it is extremely important that students do work for an audience greater and more relevant than just for the teacher! 
http://studentmuseums.wikispaces.com/Le%C3%A7ons
 – Picture of student explaining show to guests.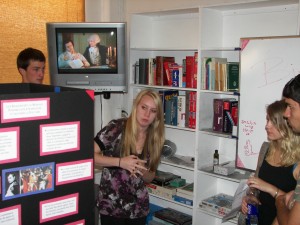 African Tales by Solar Light
This was a community event held in cooperation with the local public library as a celebration of solar power before they sent the grant-funded lanterns to a village in Senegal so the families could stop using kerosene to light their huts and the students in the village could do homework and study after dark–students did all the research about solar energy to pick the lanterns and they designed a Web site about their findings.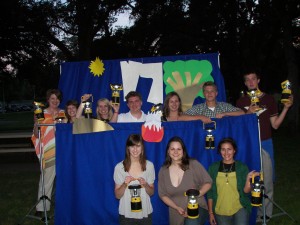 The lanterns were funded by a grant from the local utility, SMUD (Sacramento Metropolitan Utility District). The students did such a good job researching solar lanterns to purchase with the grant money that they were able to get twice as many as were needed for the Village, so the class donated another 100 lanterns to the local Red Cross for use during emergencies when there is no electricity. 
http://burkinasolarproject.wikispaces.com/
"Une Nuit à Paris"
Her students are designing a community event celebrating francophone cultures. This will take place at the end of May or beginning of June this year. They chose the theme "Une Nuit à Paris", how they want to divide up the space (multipurpose room) with exhibits, entertainment, food, etc., and they will be the ones preparing all of the exhibits and food, and presenting all of the entertainment. They will also be the ones hosting the event and speaking with the guests in both French and English (because the audience will have both). This will feature food samplings, student work–possibly including books they wrote and published on Storybird (the class may pay to have them actually printed and bound for the class to share), entertainment by the students, and a few museum-style exhibits on topics of interest to the students.
UStream
Earlier this year, French 4/AP created their own inventions and presented them on Ustream: 
http://www.ustream.tv/channel/voil%C3%A0-le-fran%C3%A7ais
 This was very informal. It was a basic homework assignment rather than a "project". It went with the AP theme of science and technology. We were studying the role and responsibilities of scientists and inventors.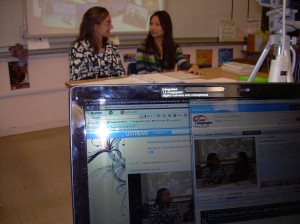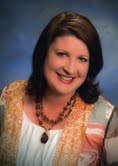 Nicole has taught French to grades 3 through 12, including AP French Language since 1993. Nicole is very active in professional organizations. A recipient of numerous awards, including the 2010 Jane Ortner Educating through Music Award, she serves as webmaster and advocacy chair on the FLAGS board. She also serves on the Leadership Team of the Capital Foreign Language Project and she served on the American Council on the Teaching of Foreign Languages interview committees for the first National Foreign Language Teacher of the Year in 2005 and for the Florence Steiner Leadership in K-12 Education Award in 2007. Nicole was invited to join the California Commission on Teacher Credentialing Subject Matter Advisory Panel for Languages Other than English in 2004. She is the founder of the Read Around the World Program and organizes additional opportunities for students to experience languages and cultures outside of the classroom.
Nicole has presented on a variety of topics at local and state workshops since 1999 and has received several grants for study in France and Canada. She was named an Outstanding Teacher by both the Foreign Language Association of Greater Sacramento and the California Language Teachers' Association and was a finalist for the California League of High Schools Educator of the Year in Region 3. In addition, Nicole achieved National Board Certification in 2003 and earned her M.Ed in 2006. In 2012, she was named San Juan USD Teacher of the Year, Sacramento County Teacher of the Year and was one of 12 finalists for California State Teacher of the Year. That same year, she also became a Google Certified Teacher.
She has been a member of the FLAGS board since 2001. In her spare time, she enjoys figure skating, calligraphy, singing, crocheting, musical theater and travel. 
_____
Can you see why I wanted to share Nicole's personal journey?