A curator pulls together and oversees collections of materials. The Internet, Web 2.0 tools and social media has expanded the traditional role of publisher to almost anyone. The role of curator is changing too. Anyone can "curate" online material, pulling together their own collections.
I started a Scoop-it "Curate your Learning" and now I see why curating is important. When you create a Scoop-it, you put in the tags.
Some of my tags are:
curation, curating, curate, curation skills, curating learning, 21st century skills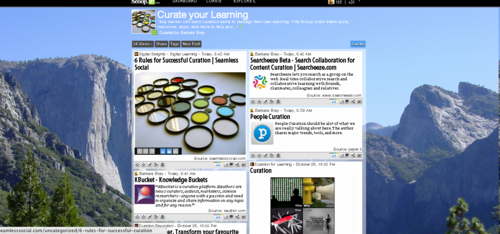 Because of Scoop-it and other curation tools, there are thousands of results as you curate. If you don't take the time to read the contents and just Scoop-it, then is the resource really useful and valuable?
Curation skills can include:
understanding keywords and tags
scanning text
reading and summarizing content
building connections
choosing appropriate resources
sharing resources
promoting and branding topic
When I searched for others with the same topic, there were many so I followed several of those people. However, the content differed because of their background. I couldn't always tell from the title or understood why some content appeared for me to curate. I started another topic on Creativity, Innovation, and Change. What I'm finding is that this is a great idea to store articles, blog posts, and other resources by topic. I used to use Diigo and Del.icio.us, but I'm a visual learner. I also like the way I can build communities of people and view their topics. I can easily Scoop-it on one of their topics and add it to one of mine.
Something to think about. Is Scoop-it the right tool for kids?
I see a great opportunity for a company to design a curation tool for kids. A few concerns come to me though: filtering, monitoring, providing feedback, measuring what they curated.
The thing with curation is that what you curate keeps changing — just like the real world. Maybe we need to rethink what we measure. 😮