I'm looking forward to going to the CUE (Computer Using Educators) Conference in Palm Springs  (March 16-19) – not just because of the weather. But because of the people — connecting in person with people you know virtually. This is my time to recharge, learn, unlearn, and take some risks. I'm presenting four sessions, so you probably have figured out what I'm doing right now. finding lots of resources and goodies to share.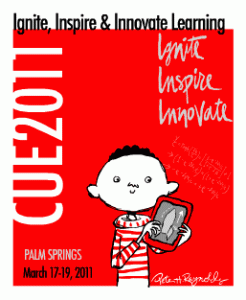 Come and Get It – Free Stuff to Use Right Away
Thursday 9:30-10:30 in the Oasis 4 of the Convention Center
Digital Storytelling and Web 2.0 Workshop
Thursday 11:30-2:30pm  – registration required
Plaza B Hilton Hotel – Windows Lab
Mobile Technology – Learning on the Go
Friday 11:30 – 11:50
Oasis 1 – Convention Center
Quick Ways you can bring Joy to Learning
Friday 3:30 pm to 3:50 pm
Oasis 1 – Convention Center
I'm putting together a website with lots of resources with a backchannel for participants to share resources. Let me know if you are going and share any presentations you are doing. If you are going to or presenting at a different conference, please share that also.