On Friday October 8th, I was lucky to be invited to help facilitate professional development for Mid-Pacific Institute in Honolulu, Hawaii.  Over 120 PK-12 teachers worked side-by-side in mixed grade-level groups to experience project-based learning (PBL). This approach requires 21st-century skills: collaboration, creativity, innovation, team work, and critical thinking. 15 Teams  of 8-10 teachers each created public-service announcements (PSA) to raise awareness about Mid-Pacific Institute. Teachers put themselves in the role of learners with a facilitator guiding the process in each team. So how did they do? Read more what Elementary School Principal Edna Hussey wrote about the process.
The team I worked with consisted of MPI's director of education technology Mark Hines, associate education technology director Bob McIntosh, the three principals, and middle school tech coordinator Brian Grantham where we collaborated several weeks prior to last Friday to  plan the project experience. A meaningful day is effective if everything is planned well. I was so impressed with how the team worked tirelessly to pull everything together. The PSA concept was developed as a project that could be completed by day's end and which would entail the use of technology already available to the faculty. Check out the details and completed PSAs at http://mpi-psas.my-ecoach.com.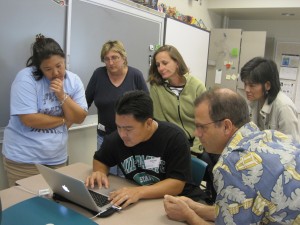 Teachers completed reflections as exit tickets at the end of the day.
"I hope that this process will help me consider some of the challenges and rewards that come with building a project so that when I design this sort of thing for my students, I will understand what it's like to be them."
"I hope to get a better sense of how students think about 'open-ended' projects. If I enter with a student's mindset of being 'spoon-fed' what's required of me, what will work to engage me in this project. Often students feel lost when they get to make too many decisions. I hope to get ideas/techniques for helping students to get engaged."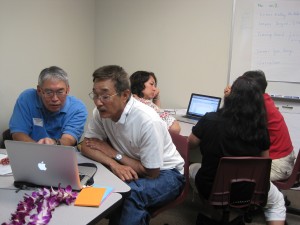 There were 15 teams who focused on a theme and developed a driving question and supporting questions about that theme to develop the storyboard and script for the 60-90 second PSA.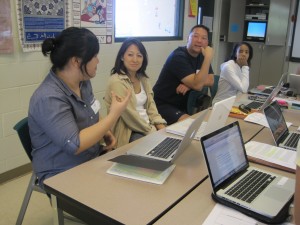 "Everyone feels comfortable to share ideas and is respectful and listens to the ideas of others. We have been able to discuss differing ideas and come to consensus. Everyone is open to hearing everyone's ideas and do what needs to be done to bring the project together. Everyone also seems to understand the importance of the process, not just completing the product."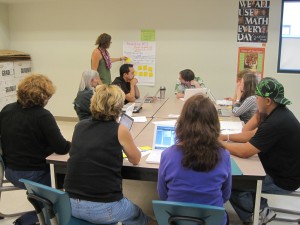 "The group is communicating very well. I'm proud that people are constructing their ideas based on the communication of a positively critical idea, from a teachers perspective, and for the teachers as an audience, keeping the assignment in mind. When there was a difference in opinion, they chose to go with the more persuasive/engaging idea that invites the audience to think. It is going well because we are focusing on the process, even though the worries of getting the PSA done came up, we acknowledged how this might be a crossroads for students, and how should we proceed."
We asked teams to pair with another team at the end of the day to share their PSA and reflect on the process. A spokesperson was chosen from each group to share with the whole staff. Everything was so positive. What an amazing group of teachers! Thank you Mid-Pac for including me in a very exciting professional development opportunity!