blog
I learned something cool this week. You can leave voice comments on a Google doc. This is very cool for teachers who want to leave a comment on a document for one of their students, but found that they had to write a lot. Now they can leave a voice comment.  I am a writer and editor. So this could save me so much time when I edit, and this can save me if my editor uses this feature. Jennifer Roberts created this video tutorial on how to use it. Check it out!
I've been asked to do some research on BYOD – that is Bring Your Own Device for those that don't know the acronym. The idea is that each student can bring a mobile device to school — any device that is supported or approved by the policies of the school or district. Asked some of my friends for ideas and Jon Corripo, Director of Charter at Minarets Charter High School and Director of Technology for Chawanakee Unified in California asked his students.
Why not ask the students?
Bring Your Own Device – Brett Hendrickson from Brett Hendrickson on Vimeo.
Thanks Jon for sharing… will be writing more about BYOD so any ideas or feedback are appreciated 😮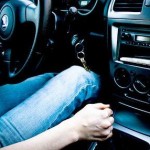 I like to drive. I guess I like the control and know how I drive. I also drive a manual (stick) and love it. I was driving this morning to get to an appointment and realized that there were many cars with only one person (the driver) in the car.  The system rewards you if you carpool, but many of us don't want to give up control to others especially strangers. I think I might have been one of very few driving a stick. At one point, I was cornered between a large truck and a slow car. I know you can do this with turbo-charged automatic cars, but I was able to downshift and maneuver to another lane easily. I did it safely and made it without causing any problems. Now if I had a passenger with me, they might have lost a little faith in me if I maneuvered like this without explaining what I was doing.
Now why am I saying this? and what does this mean in reference to learning?
When you allow someone else to drive, you are putting your faith in that person that they are a good driver and will protect you. It's about trust. It is the same thing when you are a passenger on a plane. You trust the pilot to get you to your destination. And the airline will probably not let you fly the plane — 😮
Trust is a big part of letting go. As a teacher, you are like driving the car and flying the plane. Your students trust you to get them to their destination — their learning goals or targets or whatever you are required to do.
"I remember sitting in one of my graduate class realizing that I already took the class with a different title. The notes were the same, the required text was the same, the professor was the same — that is, except the title of the course. I raised my hand and asked the professor if this could be the same course we took several quarters ago. He emphatically said "NO!! and please follow the lecture."
That moment was the turning point for me as an educator and why I wanted to find ways to make learning personal. I quit that masters program and signed up for another. They were all the same. As a professional developer with a little background in coaching and building communities, I was required to take a course on coaching from someone I had coached. The system just wasn't working for me. If it wasn't working for me, then maybe it wasn't working for many others.
What about the classroom today. The teacher is driving and responsible for all the learners in their classroom. They are given the manual and told what to teach. Let's look at the learner today. They know how to drive their learning. They had to take control or they wouldn't have walked or talked. They had to take the first step and fall and then get up again. Their parents couldn't do it for them. The same with every word they learned.  If you get a chance to watch this Ted Talk from Deb Roy about the Birth of a Word, you get it. We are the observers.
His child would eventually learn how to say "water" his way. Why and when did we think we could teach everyone the same thing at the same time? Why is it that someone who can demonstrate mastery of a skill is required to learn that skill or content over again?
Times are changing. Put yourself in the passenger seat of someone's car that you are not sure how they drive. Do you trust them? Put yourself in a class where you are learning content you already know and the teacher is driving the instruction. Now how do you feel?
We talk about having access to content from anywhere using our mobile devices, but we didn't think about what that meant to us. We thought it meant access to content anytime from anywhere. What it seems is that it also means we are available anytime someone wants us. It doesn't mean we have to be available.
Let me clarify why I'm writing this. I have to turn my cell and other phones off at night because now I'm on several lists that I cannot get off. I get calls on all my phones from a "Name Unavailable" from different numbers from around the world wanting me to sign up to different promotions all day and all night long  I don't answer "Name Unavailable" yet they don't leave a message. So I gave up one night at 3am and answered it. It was someone promoting Google Ads. I asked to be taken off the list. 30 minutes later I got another call from a different "Name Unavailable" number for the same type of promotion. There is no way to be taken off this list because these are individual freelancers trying to make money. They could be anywhere in the world.
The same thing happened during the last election. I received calls from people working for different campaigns around the country who were using their cell phones. There was no way for me to block them. They came up "Name Unavailable."
So back to Google or Yahoo or other "FREE" programs that call you in the middle of the night wanting you to sign up for something. I started reviewing what I signed up for and realized several years ago I signed up for Google Adsense. Then I thought maybe I could try Google Checkout for my store. So that's how I got on a list. I do not use either one. I get it. I also tried promoting my company on Facebook. That's another list. I'm using Safeway's Just for You. Another list. Every time I signed up for something "Free" I was put on another list.
So to get off a list, you have to remember what lists you signed up for and unsubscribe. Mmmmmmmm! I don't think that is possible today. You don't know who has your number. I heard we have over 150,000 data points associated with us. That is, I joined Facebook and added friends. If any of those friends sign up for Words with Friends, I'm a data point now. That means that Words with Friends used an algorithm to find me and promote their game to me. The same thing happens when you sign up for a credit card, make a purchase with debit card, or join a "Free" website that is connected to social media.
So back to being available anytime. The idea of 24/7/365 is that you have access to resources and your network anytime when you log on using your computer or your smart mobile device. This gives a whole new meaning to "smart" and how you use it.
Today's kids have been brought up with the Internet and mobile devices. They only know anytime, anywhere. I see kids texting while they are sitting next to their friends. For all I know, they are texting each other instead of talking. The world is different. The world is smaller. Friends mean so much to them that if they get a text, they answer right away. We had to make a law "No Texting While Driving" because it is rampant and causing accidents.
I think we need to teach another new skill: boundaries. When do you say today in this moment I do not need to answer the call or read the text. It is all about priorities and respect. I had to learn this when I created My eCoach. I wanted to be there all the time as a coach. But a coach also does not need to enable the other person. The idea of coaching is to nudge and support the other person so they can find their own way. I still like the idea of having a place like My eCoach that respects your privacy. We don't sell any data or advertise or call you in the middle of the night. We do have clients from around the world who are up when I'm asleep but that's okay. They can access My eCoach anytime, anywhere.
I finally got it that my time is important. I can be available when I have time. Not when I'm driving. Not when I'm sleeping. So if I don't answer you in the middle of the night, it's not that I don't like you or something; it's because I need to sleep.
I have a growth mindset– anyway, that's what I thought. I believe that anyone can grow and change. I learned that the brain is plastic — they call it neuroplasticity. That means you can change your brain. In reading, Carol Dweck's book "Mindset" people have either a growth or a fixed mindset. Dweck states that everyone is born with a growth mindset and potential to do whatever they want to do. Fixed mindsets happen from experiences and relationships that keep them from believing in themselves. They might give up easily because, for some reason, they don't think they can do it.
In an interview on Education World, Dweck discusses mastery-oriented qualities.
"There is no relation between students' abilities or intelligence and the development of mastery-oriented qualities. Some of the very brightest students avoid challenges, dislike effort, and wilt in the face of difficulty. And some of the less bright students are real go-getters, thriving on challenge, persisting intensely when things get difficult, and accomplishing more than you expected.

This is something that really intrigued me from the beginning. It shows that being mastery-oriented is about having the right mind-set. It is not about how smart you are. However, having the mastery-oriented mind-set will help students become more able over time."
I just read George Couros' great posts More Mindset than Skill Set and More about Mindset and Learning where he shares stories about an 82 year old woman who wanted to learn how to play the cello so she took lessons. It didn't matter that she was 82. She knew she could learn something she always wanted to do. He shared about his father who had a limited formal education, but was willing to learn new things. George showed his father using an iPad to communicate with his grandchildren. If you want to do something and you have a growth mindset, you can do it. It really is not about talent. All of us have some talents, but if we don't believe we can do something or don't believe in ourselves, we might not take the risks to change.
So why did I ask about having both mindsets? I am usually very optimistic with a glass more than half full. Sometimes the glass is running over. I read Public Agenda file: a Mission of the Heart: What Does it Take to Transform a School? that talked about "transformers" and "copers."  This is about leaders either being one or the other. Transformers have an explicit vision of what their school might be like and bring a "can do" attitude to their job. Copers are typically struggling to avoid being overwhelmed. They don't have the time or freedom, or for some perhaps, the inclination to do more than try to manage their situation.
Growth mindset = transformer. Or does it? What if you have a "can do" attitude and believe that anything can be done, but feel overwhelmed with your situation. The situation may make you question if you can "do" something especially during a stressful time.  I know administrators that are very optimistic with most activities, but have trouble coping with or managing specific situations.
I believe I have a growth mindset and so do so many teachers I work with. However, some may have trouble coping in specific situations. Teachers have so much on their plates. Some days, they are overwhelmed, because there is just not enough time in the day to do everything. That's how I feel some days. It doesn't mean that I have a fixed mindset, but I may have a situational "mindset." I want to do something about this. I like that I am optimistic. I always believed I had a growth mindset, but wasn't sure what it was called before. I want to be able to handle most situations and continue to be optimistic.
So instead of resolutions for the New Year, I'm looking at setting my mindset to a growth mindset. If I get overwhelmed with any situation, I'm going to pause and reflect on how I feel. I just have to focus and believe in myself.
What about you? What is your mindset? Why not make 2013 the year that you can do anything you put your mind to do?
I've been rethinking learning and see how innovations can happen. I love books and see the potential for eBooks. That is, until I learned about Richard Mason's book History of a Pleasure Seeker. Mason is a prolific author who writes his original manuscripts by hand in a journal the size of an iPad. When he saw the iPad, he visualized how his book could come to life — not just an eBook or iBook. It took two years, but this is the way I wanted books to be. One reviewer wrote:
"The History of a Pleasure Seeker app is exactly what a book app should be! You can read or listen to the book (or both at the same time) and enjoy the little extras (extremely well produced extras, I might add) without having to put the book down."
He included ways for his readers to ask him questions, paragraphs can be read to you, you can visualize text, and more. Mason is a writer and changed the way he saw how his words could be represented to his readers.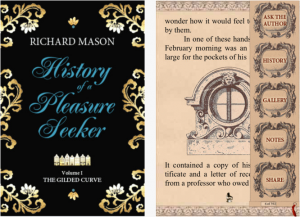 Anyone can be creative because we all possess mental processes that include decision making, language, and memory. Richard Mason is a creative writer, but anyone can change how they see the written word. I am doing research on cognitive science and neuroplasticity. You can change your brain. All we have to do to boost our creative potential is to break down the established ways we view and interact with the world. Allowing yourself to see things differently encourages creativity and looking for ways to be innovative.
Observe: When you are trying to come up with a new project or idea, study how others do something similar and the problems they might be having.
Become an Expert: Focus on something you are interested in and learn as much as you can. Then share what you find.
Step out of your Comfort Zone: Do something outside of the ordinary for you. Sign up for a class doing something you always wanted to do, read a different type of book than you are used to reading, learn a new language, go on a trip to somewhere you never thought you would go to. New experiences change your brain and might open up ideas you never thought of before.
Be Willing to Work Alone: Sometimes working in a group and brainstorming stops the creative process. If you focus on your ideas and play with them, you just might come up with something yourself. Then share it.
Play and Have Fun: Balance in your life is good for you. If you only work all the time, you will start resenting what you are doing. If you stop and play, you can come back refreshed and maybe have new ideas to work on.
Daydream: It is amazing how the mind works. It doesn't stop even when you sleep. Take a nap in the middle of the day. Pause and reflect on what you have been doing. Then imagine things that are just almost impossible.
Reflect: Keep a journal or write a blog. You never know what ideas come to you as you start reflecting on your thinking. Then share your ideas in social media. It might be interesting to see if any of your ideas are retweeted.
Share your Ideas: If you come up with something novel, share it. Find others who will give you constructive feedback. They may give you ideas that go in a completely different direction that will make your ideas even better. You may get ideas that will not help you at all but confirm the direction you are going.
Challenge Yourself: Sometimes you are onto something and just keep doing it because you started it. Stop! See if this direction is going to work. Maybe you need to stop and start a new project or idea and put that other idea to rest for a little to come back to later.
Express Yourself: Take a break to sing a song, dance a dance, or draw a picture. If that doesn't get you going, then just get up and move. Go for a walk. Your brain works best if you move and stimulate both sides of your brain.
These are my adaptations of tips shared in Scientific American Mind July/August 2012 and added a few of my own. I believe that anyone can change their brain and think in new ways. They can learn in new ways if they open their minds and just imagine things in different ways.
It's Sunday and a great time to reflect on the last week. All I can say is that it was a whirlwind. Working 12-14 hours every day on Race to the Top proposals, refining our process, talking to different groups about what is and what isn't personalized learning. The talk always goes back to technology.
It's not about the technology. It's about the philosophy you embrace around personalizing learning.
If it's all about the learner and starting with them, then everything about teaching and learning changes. Technology supports personalizing learning but should not be the focus.
Just putting technology in teachers' and learners' hands doesn't mean they know how to personalize learning. I remember the early days of technology in schools. I believe the late 80s and early 90s, schools built labs called CAI (Computer Assisted Instruction) such as Computer Curriculum Corporation, Success Maker and others.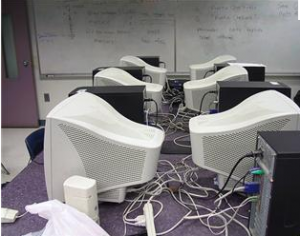 As a technology consultant during those times, I was asked to help build those labs. Most of these labs were built in high poverty schools in rooms that weren't made for computers. Even the electricity in some of these older buildings couldn't handle the capacity. They would string together extension cords from other classrooms and hold them in place with duct tape. In some rooms, we had to step over the cord that was 2 feet high. There were some rooms where they moved the computers next to the heaters. Actually, that didn't matter, because the heaters didn't work. I needed the work at that time, and that's where all the money was going. One lab with 50 computers and the software took all the technology budget. There was no money left for training. Only enough to train a paraprofessional who managed the lab. There was no integration with any curriculum in the classrooms.
I observed these labs. Kids loved them in the beginning because it was new, interactive, and included games. They loved the idea of playing in school. The paraprofessionals collected the data and shared with the administration. Scores were going up. The kids rotated through the lab once or twice a week.
But after about six months, kids started talking about how boring it was. One third grade told me that it didn't matter how he answered the questions so he just hit any key to make it go to the next screen. Scores were at a plateau then dropping. Dropping all over. All the labs. Everywhere. Few years later, the labs were changed. They took off the headphones and brought in technology teachers. Teachers with credentials. Only issue I saw was that they were prep teachers. This meant that there tended to be very little integration of what was happening in the classroom to what was happening in the labs. I know so many of these fantastic computer teachers who did amazing projects. When I was asked to come in, work with the computer teachers, and help integrate technology into the classrooms. Classroom teachers were so busy teaching the curriculum that they didn't have time or the energy to take the work in the lab and connect it to the classroom. So once again, the work in the labs stood alone and was mostly focused on building isolated technology skills. But there were some amazing computer teachers and librarians who found ways to integrate the skills with projects happening in the classroom.
So now fast forward to today and learning labs to support blended learning rotations. The labs look similar to the CAI of the past and, yes, the scores are improving.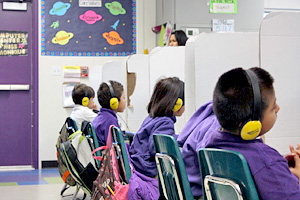 But the real learning that is needed seems to be lost. In some of these environments, the student to teacher ratio has increased because the computers "individualize" the student's learning and they don't need as many teachers. Maybe that's how or why schools are looking at this solution — to save money. Based on algorithms and data, teachers keep track of performance and work with individual students to respond to intervention — to increase scores based on standardized tests. This may sound good to some people, however, to prepare our children for the global workforce, they need different skills then they acquire sitting in front of computers like this. It just cannot be about the scores.
The skills needed for today's jobs include:
collaboration and teamwork
problem-solving
critical-thinking
creativity and innovative thinking
choosing and using the appropriate resources for a task
building a network of learners locally and globally
learning how to learn, unlearn, and relearn
Computer labs like the ones some schools are building to blend learning are fitting learning into strict schedules: 20 minutes at one station then move to another station. Real learning doesn't work that way. We did this already, and it didn't work. Now we have mobile technology and learning can happen anytime anywhere. Let's rethink this strategy before we invest millions again into set labs with desktop computers that are just trying to increase scores and use curriculum that adapts to their performance based on algorithms instead of how they learn best.
Personalizing learning needs to be social. It starts with the learner not the technology. Real learning encourages play, creativity, experimenting, taking risks. Learning is supposed to challenge the learner and that cannot happen if they don't have a stake in it. Learners have a stake in their learning if they have a voice in their learning and are motivated and engaged in the learning. Learners just cannot own and drive their learning when they sit in front of a computer with headphones on clicking through adaptive activities that keep track of their keystrokes.