blog
2013 has been an interesting year. Education is being juggled more than ever between pedagogy and corporate control AND it is personal — for you — for me — for our children.
The marketing strategy of adaptive learning systems is that of 24/7 services that you can access at any time, in any place and at any pace. Education has adopted this language to reduce costs with business-like customization and streamlined productivity. The expectation is for a flexible education system that will also be more efficient and cost effective.
[Source: Rebirth of the Teaching Machine Through the Seduction of Data Analytics: This Time It's Personal by Phil McRae]
"The adaptive learning system crusade in schools is organized, growing in power and well-funded by venture capitalists and corporations. Many companies are looking to profit from student and teacher data that can be easily collected, stored, processed, customized, analyzed, and then ultimately resold".
There's money in it, but not for the right reasons nor for the right people: our children. I read this research by Phil McRae and it all made sense. This time it is personal. Corporations are taking our educational system, shaking it up and spitting out children who cannot think for themselves. They are calling it cost-effective but actually, adaptive learning systems are more costly than we know. It is all about the data this time. This is so dangerous for our society that I have to speak up and hope you speak up about this also. We need to fight for our children and their future and their data.
Framing adaptive learning systems as "personalized learning" has to stop.  This image "At School in the Year 2000" – a futuristic image of learning as depicted on a postcard from the World's Fair in Paris, Circa 1899 predicting what learning will be like in France in the year 2000. It is scary that this depiction is becoming true in the US and other parts of the world because we are being sold a bill of goods. Corporations and politicians are really good at framing what they believe we want to hear around a philosophy or concept that markets something they want to sell or use.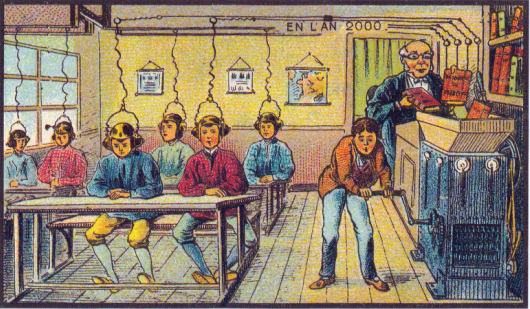 Image Source: Wikimedia Commons
The idea of children having their own personal choice how they will learn is being redesigned as increasingly data driven, standardized, and mechanized learning systems. Children should not be treated like automated teller machines or credit reward cards where  companies can take their valuable data. It is all about control and saving money. But who's money? Yes, technology can help personalize learning, but what technology and how? And who's data?
Let's be real: adaptive learning systems are for those things that can be easily digitized and tested like math problems and reading passages. They do not recognize or encourage high quality learning environments that are creative, inquiry-based, active, relevant, collaborative, and what our children need to be global citizens who are critical thinkers and problem-solvers.
We did this before. McRae reviews the history of using technology to control learning. It was all about feeding information to kids and controlling what they learned. B.F. Skinner did this in the 1950s where learning was about measurability, uniformity, and control of the student.
I grew up then and remember having problems understanding some concepts. That was mainly because everyone in the class was supposed to learn the same content at the same pace — too much content — too fast for most of us. I was provided an "intelligent tutor" outside of the classroom and sat in front of a screen answering multiple choice questions about what I read. I felt stupid and ashamed. It still didn't make sense, but the teacher didn't have extra time to spend with students falling behind.
I know I'm smart, but I felt stupid in many of my classes. If I went through that then, how many others felt like me? I wanted to give up, but one teacher and my parents believed in me. They spent time with me figuring out why I didn't get it. That's all I wanted — time with a real person who cared. We didn't have all the technology then that we have now or I would have googled it and figured it out by myself. The problem with the technology then was that it wasn't personal for me. It was the same worksheet I didn't understand in the first place now on a screen.
In the 1970s and 1980s, Computer-Assisted Instruction (CAI) became the next big thing. Programs like PLATO (Programmed Logic for Automated Teaching Operations)and Computer Curriculum Corporation (CCC) were building labs for schools for large numbers of at-risk children paid with Title I money and categorical funds. I remember these because I was asked as technology coordinator and professional developer to help set them up. Schools put these labs in any area that would fit. Some high poverty schools had them set up next to heaters and most were managed by a parent or para-professional. Teachers would rotate their classes in and out every week. Kids were so excited at first to play the games that supposedly taught concepts they needed to learn.
After about six months, kids got bored with the games and clicked on any keys just to get through the games. There was nothing relevant or made sense for them to be there. Kids are so much smarter than we give them credit. When they were in their classes, they felt like they could maybe ask questions about their learning. But, in the lab, there was no one or no way to question what or if that was the one right answer. After a few years, the labs were dismantled or used for other purposes. But all the money was gone so there was no one left to run the labs or train the teachers.
CAI is now back as "adaptive learning systems." Some of the old programs have been repurposed with more interactivity. McRae states it as "adaptive learning systems still promote the notion of the isolated individual, in front of a technology platform, being delivered concrete and sequential content for mastery. However, the re-branding is that of personalization (individual), flexible and customized (technology platform) delivering 21st century competencies (content)." [Source: McRae's research]
CCC's SuccessMaker is now Pearson's adaptive learning system. Other adaptive systems have repurposed content but they still promote building mastery with sequential content. It is similar to the old worksheets repurposed using new technology. Dreambox refers to Skinner's teaching machine and "adaptive learning as a computer-based and/or online educational system that modifies the presentation of material in response to student performance. Best-of-breed systems capture fine-grained data and use learning analytics to enable human tailoring of responses. The associated learning management systems (LMS) provide comprehensive administration, documentation, tracking and reporting progress, and user management." [Source: http://www.dreambox.com/adaptive-learning]
Source: U.S. Department of Education , Office of Educational Technology, Enhancing Teaching and Learning Through Educational Data Mining and Learning Analytics: An Issue Brief October 2012, page 30
Dreambox is now framing their system as "Intelligent Adaptive Learning" and others are starting to use the term "Intelligent Tutors." Companies are creating hundreds of white papers and studies to prove that adaptive learning systems benefit our children. Be careful! Read them closely for the messages being delivered. We need to be critical consumers for our children's sake.
McRae writes why we are so seduced for adaptive learning systems:
"First, it is seen as opening up possibilities for greater access to data that can be used to hyper-individualize learning and in turn diagnose the challenges facing entire school systems. Second, the modern teaching machines, and the growing reach and power of technologies, promises to (re)shape students into powerful knowledge workers of the 21st Century."
 As I said in my own situation, all I needed was time and someone who cared and listened to me. Today the technology is at our fingertips and children are using technology at younger and younger ages. We don't need to spend millions on these systems. Information is available when we need it now. We just need to teach our children how to acquire the skills that help them access, evaluate, and use the information they find. We cannot feed information to children from "Teaching Machines" like what was in the 1899 postcard and what Skinner projected. It didn't work in the 50s or the 90s. It won't work now. This is dangerous for our children and our society.
Our children need caring and compassionate classrooms that encourage independent, creative and collaborative work. Technology is changing rapidly. We don't need to go backwards and plug our children into machines. They will do that on their own but they need guidance in a different way. They need to know what is happening with their data. Schools protect student data, but adaptive learning systems sell the data to third party companies. Consider all the free social media and other programs available that collect data from you. You probably are aware when you sign in to certain programs, they know you and your data. But you might not have known that your child's data including social security numbers and health concerns are being sold to third parties. This is dangerous! It will get even more dangerous if the government funds it and encourages the use of adaptive learning systems without some oversight.
Teachers need to know how to facilitate a different kind of learning environment that is flexible, personal, and creative. Personalized learning means that learners own and drive their learning not the technology using algorithms based on performance that controls learning. Learners need to learn how to think on their own. This will not happen if adaptive learning systems control how and what they learn.
It is personal now! Let's all work together and do the right thing for our children. Teach them to learn, unlearn, and relearn. Show them that they can drive their learning so they can reach their fullest potential.
I came out to my car with my groceries and the car next to me was so close that I couldn't get in from the driver's side. I looked at their car to see why they did this? It was obvious. They wanted more room for themselves on their driver's side. It was all about them. They were oblivious to what another driver might need. So I climbed in on the other side and had to jump over the stick shift. Yes, I drive a manual. I got in and then thought about how people live now. It is all about them. "Me" not "you."
This is one reason why social media works. Facebook is about "you" building and connecting to "your" friends. It's about sharing what you like, liking what others do, and showing off what you do. Twitter is even more about "you." Yes, you can use these tools to think beyond yourself. You can use these tools to promote and share. But they became big because of how they are about "You." Even Linkedin as a professional tool is about building up "you" to the world. It's about how many connections you have and who these connections are. It's also pretty cool to be endorsed and recommended by certain people.
When it comes to being connected, we are more connected today than ever before. Almost everyone has to have a smartphone, especially teenagers. They have to be available immediately to their friends. Texting is now bigger than email and using the phone. That's old school. With unlimited texting packages, we can write back and forth whenever we want with as many words as we want. And we do.
According to Experian, in March 2013, U.S. smartphone owners aged 18 to 24 send 2,022 texts per month on average — 67 texts on a daily basis — and receive another 1,831. New studies are coming out with over 80 average texts daily. Mobile chats are starting to grow also.
Interpersonal relationships mean more to most kids than their own families. They check their phone often. This is why texting why driving is such a problem. Smartphones alert you when there's a text, a tweet, or some other response or nudge about almost anything. You are "always" connected to your network unless you turn your phone off. If they turn off their phones, they lose their connections. They have to answer right away or their friends will keep texting and eventually call. They are thinking "there must be something wrong if you are not answering ME."
Personalized is more than the phone though. Your shopping is "personalized" based on what you bought before, and you don't have to go to the store physically anymore. Everything is on Amazon or eBay. You are not tied to a television schedule anymore. You can watch what you want using Hulu or Netflix. Why get a newspaper, when CNN and USA Today are online? Everything is there at your fingertips when you want it. This is why traditional delivery of information is dying away. It's not because it isn't good; it's about supply and demand. The 16-24 crowd finds it old school. It is old school to have a landline phone, a newspaper, going to the store to shop, and "school" as we know it.
You knew I was going to get to this eventually. If we want to reach our kids and help them become global citizens, we need to use the tools they are used to. But we need to demonstrate how to use these tools effectively and guide them so they think beyond themselves. If we ban smartphones, we lose our kids. It's like the old saying "if we can't beat them, join them." But it's really not about kids only. I have a smartphone and text. I'm connected to my children and my friends. But I would never park my car so close that someone could not get into their driver's side of their car.
It is about our mindset. We can focus on learning that is personal, but we need to teach and model compassion, kindness and empathy. We need to demonstrate what it is to be part of a social  network and how to look beyond yourself. We also need to use these tools so kids can learn the way they learn best. Take advantage of them. But we also need to show them that they need to look up and out at the world. Connect with others to not only build connections but to share what you learn and learn from others. Teach the skills to recognize bias, validity and authenticity. Help them to be able to articulate intelligently and thoughtfully. This is their future and right now I'm a little concerned if they are ready for it.
When you think of school, you may think of it as it looked when you went to school. Maybe your kindergarten looked like this…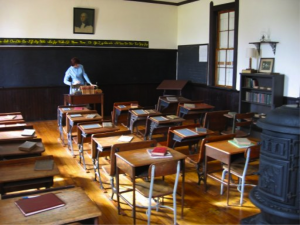 In many schools, it still does.
When I see this picture, I get a sick feeling in my stomach. I remember sitting with my hands on my desk forced to keep my mouth shut. The teacher did all the talking. She only called on people who she believed knew the answer. If I answered wrong, I was humiliated. Now I did have some good experiences during my education, but seeing this configuration brings back some of those awful feelings. I even worked in schools where the desks were bolted to the floor. It really is all about control. I know that teachers can only do with what they have, but there are other options for learning spaces.
Reggio Emilia is a learning approach where the environment is the Third Educator. The learning spaces are significant for the learner to learn. There is a flow and adults are observing and chronicling the learning. This approach was started after World War II in the city of Reggio Emilia for preschool and now is being explored for K-12 around the world.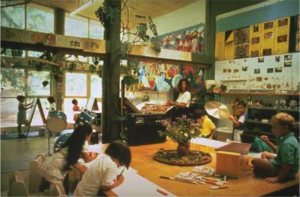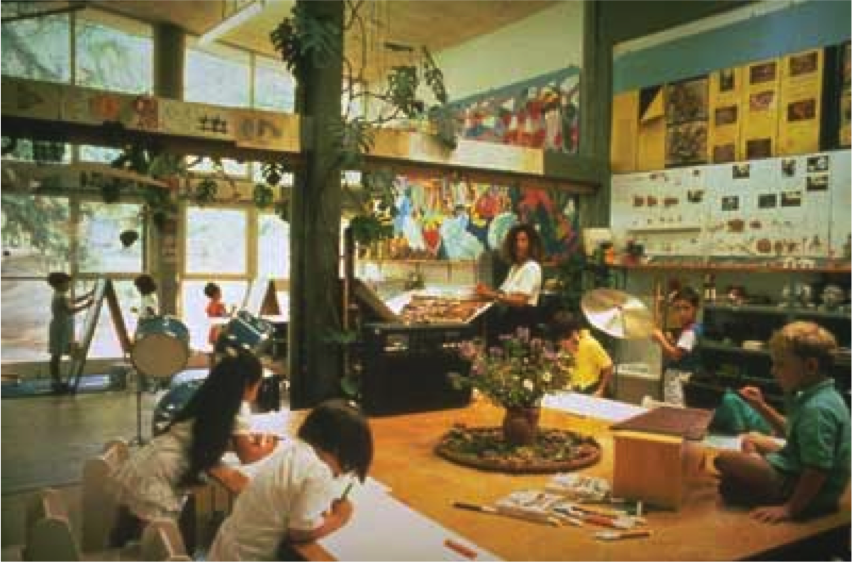 Learning spaces are all about design. What is design as it relates to school? Design encourages creativity and innovation. It helps you shape your ideas and thoughts. If the design is restricting you from moving or exploring, it may also restrict your thinking. At ISTE 2013 in San Antonio this year, I visited Steelcase – an interesting furniture design company for organizations including schools. They have chairs that swivel with spaces to store your backpack — desks that move and link.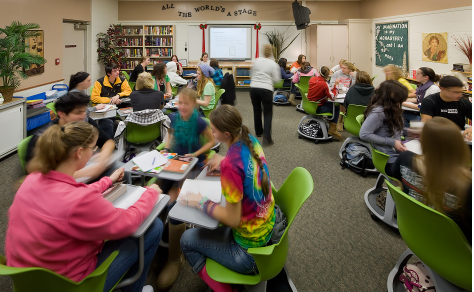 "A lot of times now, I am grabbing a chair and becoming a part of the groups, which has changed how I do things."

Sheri Steelman, Northview High School teacher [source]
Steelcase also had some very cool tables that group and let you connect your iPad or other tablet to a display. Other tables had places to hang small whiteboards with handles and use a slot to stand them up right on the table to continue working. I want that. Just grab and whiteboard and go. If you know me, then you know I definitely would love this…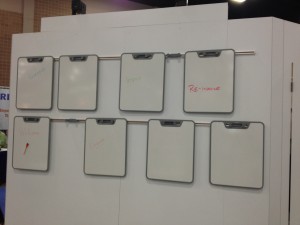 Then they took me over to an area with a couch with round tables and ball chairs. The couch has sound proofing behind it. Cool! Look at the round flip chart pages on the top of the round table that you can pull off and use for brainstorming. The ball chairs moved up and down and were just like the exercise ball I sit on while I work. I want one!!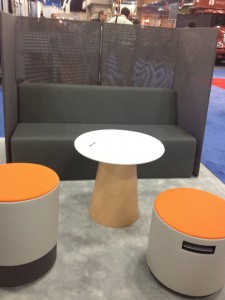 Chris Edwards, a Year 2 teacher at Chad Varah Primary School Lincoln in the UK.  He shared with us (me and Kathleen McClaskey, co-founder of Personalize Learning) what his classroom looks like as part of "messy learning."  As a musician, artist, and education technologist, Chris just couldn't see teaching like he was taught. His kids have iPads and different learning zones to create, design, and engage in the learning process. Check out Chris' Messy Learning website and watch for more from this innovative educator.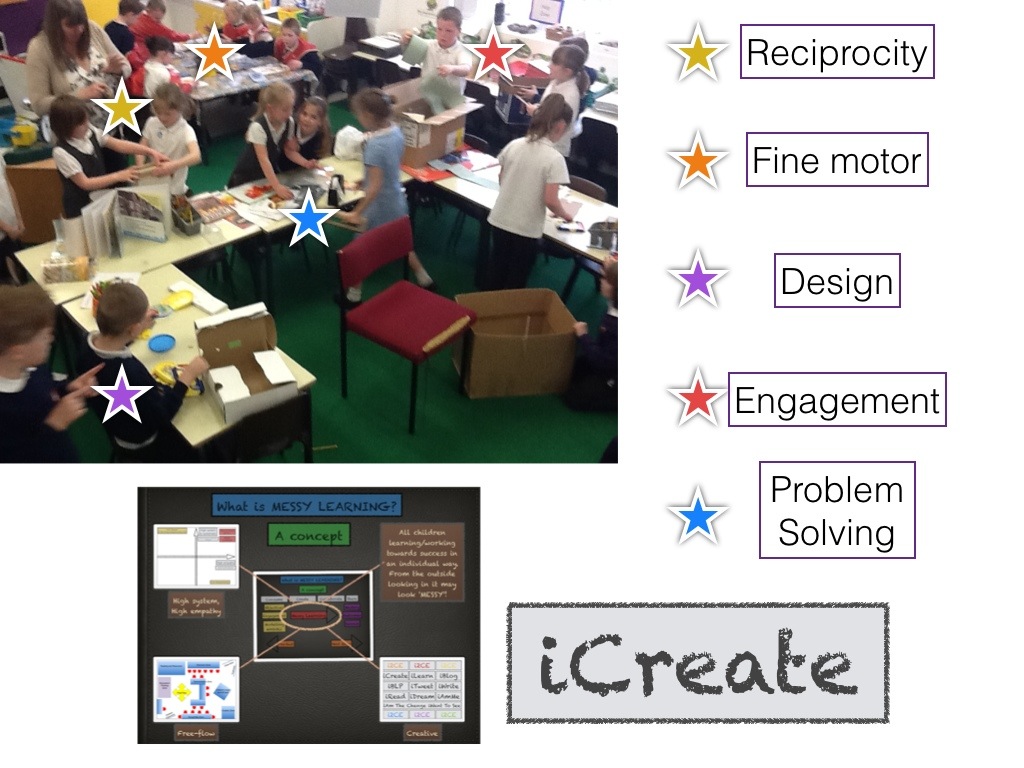 In Sweden, architect Rosan Bosch designed the school to encourage both independent and collaborative work such as group projects and PBL. Even the furniture is meant to get students learning. Bosch says each piece is meant to "aid students in engaging" while working.

With mobile devices, online courses, and independent study, learning can happen anywhere, anytime, at any pace. Maybe if we visualize schools as learning spaces instead of classrooms, learning is the focus.
How would you design school?

Would you call this space where learning happens school anymore?

What would you call it?
Check out this Ted Talk video "How would you design school" from Graham Brown-Martin
I used to say to my kids that "I love learning" and they would just laugh at me. But I do. I relish each new concept I learn and take apart and roll it around in my brain. I love what I do which is helping teachers develop learning environments that are engaging and full of joy. Maybe what I want is for everyone, teachers and learners, to have that same "love of learning."
I read AJ Juliani's post "Why do so many bad students turn out to be great teachers?" and definitely could relate. I was just a s0-so student in high school. Traditional teacher-centered instruction just turned me off. I didn't see why I had to learn the times of events in history from the most boring teacher I ever had. We had to sit straight with our hands clasped while he talked in a monotone voice. This was 10th grade. Now really!!
He destroyed my curiosity about history. I barely passed his class and felt stupid. Then in 11th grade my eyes were open to World History. I was drawn to want to learn more about the people and the times they were living in. We relived times and events and performed as characters from the past. I never had this experience before where I participated in the learning. I was even given a choice on how I wanted to express myself. This was where I got the bug for learning. I grew up in Maryland in a very nice area not too far from Washington, DC. A great place to grow up. I don't think my experience with school was that different than others my age.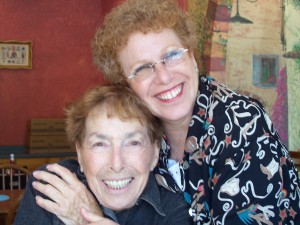 I'm going to go back where I lost my way — when I was in first grade. This is where I realized I was a "bad" student. My teacher was strict and even punished us with a ruler. She would put people in groups by height, girls or boys, and even by color of hair. So that's when I lost my confidence. I was the only redhead in the class and sat by myself. Why would she do that? The year got worse and my confidence dropped farther and farther. I felt that I wasn't very smart so this is how I participated in school all the way to 11th grade until I had that great History teacher. There were a few good teachers here and there and my parents always believed in me. My mom was an artist who taught me to think outside the box and draw outside the lines. That was never allowed in my 1st grade class.  I loved learning before I started school, but school made me feel like I couldn't learn.
After I graduated High School (barely), I moved to California and went to community college. I felt free. I felt like me. I was told when I was younger that I can't write. But I can. I love to write. I wrote some poems for my English teacher and he asked me to read them in the quad. Everyone gave me great feedback. Then he helped me enter one of my poems in a contest. I won first prize. Then I took Anatomy and Physiology from an amazing teacher who made me want to learn everything about the body. I couldn't wait to go to his class. Then I took Humanities and Art History. I loved this. All of it. I wanted more and more.
I realized and believe now that I am smart in my own way. I love to write and read and learn. I wish and hope all children never lose that love of learning, the curiosity they were born with, and the opportunities to be creative. This is why I see the importance of making learning personal for each and every learner.
I love learning. Do you?
As a parent and educator, you always hope that your children and students find their purpose and passion and then live it. My daughter, Sara Zimmerman, is living her passion better than many people I know. She's an artist, web designer, musician, climber, mom, wife, daughter, sister, and now author.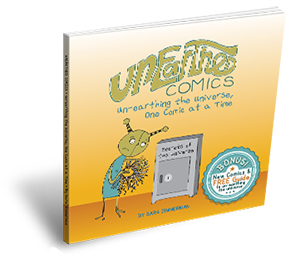 Check out  "Unearthed Comics" where she just launched her book "Un-earthing the Universe, One Comic at a Time" and I'm a sponsor. What a great idea!
Everyday is exciting for Sara, her husband, Rob, and her 5 year old daughter, Cali. I am learning from them that you can play while you work and work while you play. They have a band where Sara plays her drums and Cali has her own set to follow along. Rob and Sara are a real team with the web designing, their band, and climbing.
Check out "Unearthed Comics" and get yourself the book and a decal. You can even take the decal with you when you travel and share where in the world you and the Marilyn decal are visiting on her blog. And for anyone wanting some great marketing advice, download her free eBook on Making Smart Marketing Decisions.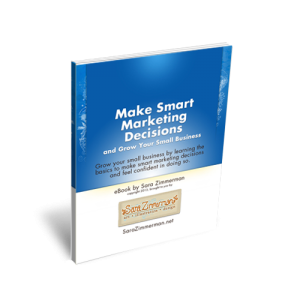 I find myself in an interesting time in my life. I could retire but I don't want to. This is an exciting time where all the efforts I've taken for years to change education are starting to come together. I can taste it, smell it, and feel it. I'm working with schools around the world and the issue seems to be the same.
There are a few pockets of excellence but we tend to still be embedded and entangled in a system of traditional education. The questions I get from teachers all over the world have the same tone:
how do I give students voice and choice when I am accountable for their learning?
how do I become a co-designer with students who don't want to be at school?
what if I transform a lesson and it fails?
I can go on but the issue seems to be about trust.
Does the administration trust that the teacher will meet all the required curriculum?
Does the teacher trust that their students will do the work?
Do the students trust the teacher to teach them what they need to know?
I have been thinking about this for a long time. Kathleen McClaskey and I as co-founders of Personalize Learning, LLC were brought together because we needed to be. Both of us were going in similar directions fighting this issue alone. Our mutual friend, Julie Duffield, brought us together several years ago. We created a chart defining what Personalized Learning is and is not in January 2012 and then from all the feedback, we updated the PDI Chart this March 2013. It has changed our lives.
After we created a process with the Stages, we started getting interest from schools, districts, regions, states, and companies. We opened a pandora box. We created an eCourse about the What, Who, Where, Why, and Wow of Personalized Learning and are on our sixth session since February. It is more than exciting. Yesterday was our first session with 34 educators from around the world most from Australia. We are doing several sessions simultaneously. One with Kettle Moraine School District in Wisconsin. The questions and conversations are the same but they are getting deeper and more reflective.
So that's why I thought it was time for me to reflect on everything that has happened the last 2 years. All I can say to teachers who venture down this road to turn the learning over to the learner so they own it, thank you! I am in awe at all you are doing. I am amazed when a school system says it's time to rethink learning and change how we teach and learn. I want to thank Kathleen for sticking with me through this. We are fighting an uphill battle against structures and entities that have been entrenched in a system that is over 150 years old.
We wrote a post Learners NOT Students and the response was overwhelming — most good but a few educators got upset. What we and others are saying shakes up the system. It needs shaking up. My granddaughter is starting kindergarten this year and all I can think is Oh My — she's so creative and the school will take that away from her. We have to give the learning back to our kids. They need to own it — drive it.
I cannot stop now. We cannot stop now. This is the time for a revolution like Sir Ken Robinson said in the latest Ted Talks Education along with Rita Pierson and others who talk about passion, interests, human interaction. Watch this and then we'll get this revolution going and finally do it right for our kids.
Watch TED Talks Education on PBS. See more from TED Talks Education.
I learned something cool this week. You can leave voice comments on a Google doc. This is very cool for teachers who want to leave a comment on a document for one of their students, but found that they had to write a lot. Now they can leave a voice comment.  I am a writer and editor. So this could save me so much time when I edit, and this can save me if my editor uses this feature. Jennifer Roberts created this video tutorial on how to use it. Check it out!