blog
I love the idea of making, inventing and tinkering. Just watch kids who are immersed in the activities and you can see the engagement. But is the learning authentic and relevant?
I presented three sessions at the Free Maker Movement event at One Work Place on Wednesday, September 30, 2015 with some amazing educators who presented hands-on activities. The event will took place at our Oakland Center for Active Learning .
I decided I needed to spend some time researching where the Maker Movement was happening and find examples of authentic learning. This gave me the opportunity to talk to several of my friends and share how they have transformed learning spaces to Makerspaces. Everyone I talked to made a point that it is about creativity not consumption. Yet when I went to different Maker events, I saw activities that an adult set up, purchased a kit or provided directions for activities. They were all fun, but I was having trouble seeing the connections to real learning or any ownership from kids.
---
I read Jackie Gerstein's post: MAKE STEAM: Giving Maker Education Some Context where she wrote "recent discussions with other educators and administrators made me realize that the idea of maker education is often vague and seems unrealistic in terms of regular classroom instruction."  She shared her thoughts of Maker Education in the context of STEAM (Science, Technology, Engineering, Arts, Math) where teachers integrate maker projects into their classrooms. Read her blog and check out the Thinglink by clicking on the dots for more information.

@jackiegerstein
---
I reached out to Shannon McClintock Miller, @shannonmiller, who is a Teacher Librarian at Van Meter Elementary in Iowa. Shannon stretches the imagination of children and manages the Library Voice as a place to be heard through creating, technology, connecting, reading, collaborating and noise.  I love her quote:
"We as librarians and educators and as people
who care about young people need to CHANGE!"
Shannon emphasizes the power of story where learners can play with content, media, narratives, remix, mashup and then tell their story. She encourages her learners to connect to the story in different ways: Skype with authors, create their own stories, and publish eBooks. One learner loved the "I Spy" books and wanted to Skype with the author "Jean Marzollo so Shannon set it up. What came out of the Skype was for learners to create their own "I Spy" book for Van Meter School.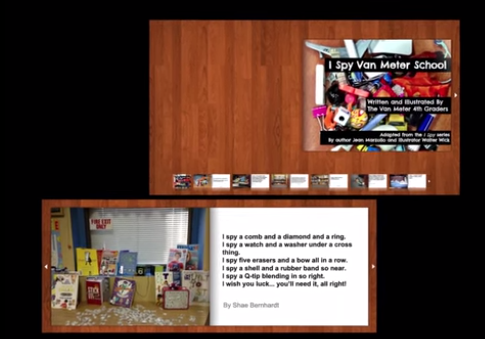 Shannon redesigned the library to move to creative, innovative spaces: Makerspaces around the concept of stories. Learners took their iPads and used an Augmented Reality program, Layar, to add multimedia to texts, posters, and books. She found different apps and organized them in a Digital Makerspace using Symbaloo. After pulling together different Makerspace activities, Shannon wanted a way to provide opportunities for making in the classroom.  So she created Makerspaces Mobile bags that teachers could pick up and use in their classrooms.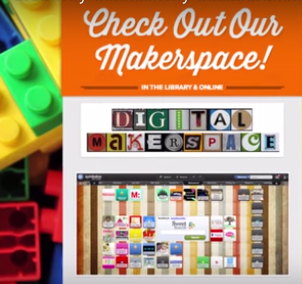 ---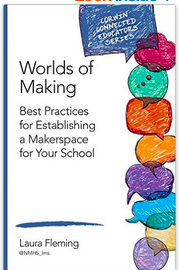 Laura Fleming, @NMHS_lms, is a Teacher Librarian at Milford High School in New Jersey who is a strong advocate of using New Media and Vanguard Techniques for Interactive and Transmedia (multi-platform) Storytelling. Her website is Worlds of Learning.  She wrote the book World of Making where you can find invaluable guidance for creating a vibrant Makerspace on any budget. The book includes practical strategies and anecdotal examples that help you:
Create an action plan for your own personalized Makerspace
Align activities to standards
Showcase learner creations
Laura's goal is to create learning experiences that empower and equip students with necessary skills to effectively produce and consume content across multiple media platforms. She went from K-8 to the high school to a library that was very traditional that was under-utilized.
In less than two months she transformed the library by just adding activities aligned to classroom instruction. She even used DonorsChoose to purchase a 3D printer and provides multiple suggestions to build your own makerspace.
---
Diana Rendina, @DianaLRendina,  is a Media Specialist/Librarian at Stewart Middle Magnet School in Tampa, Florida. Diana is passionate about school libraries being places for students to discover, learn, grow, create, connect and collaborate. She shares her journey on her blog, Renovated Learning: Building a Culture of Creativity and Discovery in Education.  She has worked to transform her school's library from a quiet, dusty, cluttered room into a vibrant and active learning space where students want to be.  In 2014, she created a Makerspace in her library to serve as an informal STEM learning space for her students. 
Diana shared how their Makerspace has changed, grown and evolved since it was first conceived and started in January 2014.  Follow along with the story of their journey here.  Hopefully it will inspire you to start your own Maker journey.

---
This is just the beginning and a short overview of how libraries are transforming to Makerspaces. But one thing I did find from talking to Jackie, Shannon, Laura and Diana is that the librarian's role is changing and Makerspaces can connect to learning. The Library is changing and bringing stories to life. Makerspaces can be digital and mobile. If Teachers and Librarian/Media Specialists collaborate on curriculum design, projects can be integrated in to STEAM and other curriculum activities. So this is just the beginning of my investigations how these Makerspaces can expand authentic learning activities.
I want to keep this short. I've been writing, speaking, tweeting, sharing, learning, and traveling a lot. Some days I'm not moving out of my chair for hours. I know I tell everyone about getting in the "flow," but this is ridiculous. I sometimes work right through lunch, breaks (what are those?) and then the phone rings or get an email asking a question. I end up working more.
All of a sudden I just had to stop and take a deep breath. I turned the music up high and decided to dance. I mean really dance until I only think about my dancing and nothing else. You see, I have been so focused on trying to transform teaching and learning, I forgot about me. I need to take care of me so I can be here to continue to drive my purpose.
When you are driven by something you are passionate about, you forget to stop and think of why you are doing what you are doing. There has to be some balance in your life.
I have this plaque on my wall: "Dance as if no one were watching" and remember how happy I am when I dance. So stopping right now — to dance.
These days, too many teachers are leaving the profession because they may not be getting the support they need to do the job they are required to do. Now is the time to reverse the trend of teacher burnout. This can happen with improving their own professional learning by making it personal.
Every class, every teacher, and every learner is unique so each situation could bring up questions, opportunities, and even confusion. Teachers could find that they will be learning something new more often than not.  Teachers are the most valuable element in the classroom.
Teachers can be partners in learning with learners. To do this effectively, teachers need to determine their purpose for professional learning that defines learning goals specific to learning outcomes. Then they can identify instructional practices needed to implement so learners meet those learning outcomes. "One size fits all" professional development will not meet each teacher's purpose and plan. Every teacher will need a plan with specific learning goals to personalize their professional learning.
Learning Forward [www.learningforward.org] created a workbook for States, Districts, and Schools: Professional Learning Plans as the navigation system for the comprehensive professional learning system as the engine that powers educator learning. A program of professional learning is "a set of purposeful, planned actions and the support system necessary to achieve the identified goals." Professional learning plans focus on the specific content, learning designs, implementation support, and evaluation of professional learning. The comprehensive professional learning system establishes the overall infrastructure and operations that support effective professional learning. The workbook provides teachers, schools, and districts the tools, resources, examples and models that will assist them in developing whole system professional learning plans and personal professional learning plans.
Some key questions to drive the development of your plan:
What results do we seek for our learners?
What teacher practices contribute to those results?
What must change in order to achieve those results?
The goal of professional learning should be stated in terms of learner outcomes. Changes in educator knowledge, skills, dispositions, and practice are the means to changes in learning. Learner and teacher goals written in the SMART format increases the strength and clarity of the goals. Working SMARTER, not harder: SMART goals keep key objectives in focus as follows:
SMART Goals
S  = Specific
M = Measurable
A  = Attainable
R  = Results-based
T  = Time-bound
Consider this question: What learner outcomes do you want to see that can be transformative?
Teachers need collaborative time to review and analyze learner data. There are schools that are scheduling time once, twice and, in some cases, daily, where teachers meet to plan together. Teachers usually work alone and have been isolated behind closed classroom doors for too long. When teachers have the time to work together, they can review how their students are learning, what they are learning, and any challenges. They can use SMART goals to develop learning objectives. For example, if teachers determine that 42% of their high school learners do not understand linear equations, they can develop a learning goal that targets these learners.
Example SMART Goal
42% of the high school learners will have resources and opportunities for small group, one-to-one instruction and ongoing peer support to increase their knowledge and skills around linear equations.
Teachers only know what they know or were taught. Many follow a pacing guide and use existing curriculum even though we now know that doesn't work for all learners. A teacher who is trying to "cover" the curriculum based on the pacing guide will never meet the needs of those learners who are falling behind.
When teachers start putting together SMART goals around learning outcomes based on data, they can go several steps further to determine how each of the 42% learners learn best along with any challenges they might have. There are always several learners in your class that stand out with unique characteristics. Teachers may find out that more than one learner may have trouble understanding math symbols where others have issues focusing on how the problems are stated. When you know specific issues that are challenges for your learners, you can pull together strategies to target those challenges. This is where the Personal Professional Learning Plan comes in for each teacher.
Sample Personal Professional Learning Plan
(adapted from source: http://www.esclakeeriewest.org/files/Sample-Goals.pdf)
State the Action you will take
Describe an Area of Focus for the Learning
Include the Rationale
Add the Activities
| | | | |
| --- | --- | --- | --- |
| State Action | Describe Focus | Include Rationale | Add Activities |
| Improve | Teaching Skills | Assist at-risk students | Stay current with new practices |
| Develop | Proficiency in technology tools | Support instruction | Identify specific tools and resources |
The activities are personal to each teacher. This is where teachers can take control of their own learning. If a teacher wants to improve their teaching skills to assist at-risk learners, they can use alternative learning opportunities to support them with their research. Traditional PD usually doesn't allow time for personalized support and attention. Some questions teachers have asked about PD:
How do you stay current with new practices if you sit in a lecture that does not support your learning goal?
How do you find specific resources around Algebra if PD that day is on classroom management?
Teachers can get support by building their Personal Learning Network (PLN) in their school, district, community, and in social media. There are multiple learning opportunities outside of traditional professional development. This is where "personal" expands professional learning with opportunities that include:
Common Planning Time
Unconferences
Edcamps
Using Social Media

Twitter chats
Facebook pages
Google+ Communities
Linkedin Groups
Common Planning Time
Common planning time is different than "teacher preparation time" or "prep periods," which are periods of time during the school day when teachers, typically working on their own, can plan and prepare for their classes, meet with students, or grade assignments. Common planning time is an evolution of the traditional preparation period to time that encourages more frequent and purposeful collaboration among educators. Its primary purpose is to bring teachers together to learn from one another and collaborate on projects that will lead to improvements in lesson quality, instructional effectiveness, and student achievement.
Unconferences and Edcamps
An unconference is a conference organized, structured and led by the people attending it. Instead of passive listening, all attendees and organizers are encouraged to become participants, with discussion leaders providing moderation and structure for attendees.
Unconferences are founded upon The Law of Two Feet, which states that:
If during the course of the gathering, any person finds themselves in a situation where they are neither learning nor contributing, they must use their two feet and go to some more productive place.
An Edcamp is a user-generated conference – commonly referred to as an "unconference". Edcamps are designed to provide participant-driven professional development for K-12 educators. In both cases, instead of one person standing in front of the room talking for an hour, people are encouraged to have discussions and hands-on sessions. All of the space and time are reserved for the things people want to talk about.
Twitter Chat
A Twitter or Tweet Chat is a planned "chat" on Twitter that organizes a group of people with similar interests in a particular subject matter. The host of the chat is the person that arranges and promotes it to their followers by picking a regularly scheduled time for the chat to happen. Teachers that are looking for specific resources can find them fast. Sign up with your own handle and find hashtags to follow like #edchat, #edtechchat, #tlap, and #plearnchat.
#plearnchat is our Twitter chat we host every other Monday at 7pm ET, 4pm PT. Join us!
_____
These are just a few strategies that teachers can use to take control of their own learning. Learning is personal and teachers are learners too. Check out what Vicki Davis wrote about 12 Choices to Help You Step Back from Burnout if you find yourself feeling a little blue.
Learning Forward. Professional Learning Plans. http://learningforward.org/docs/default-source/commoncore/professional-learning-plans.pdf
This post was first published in OnCUE  Spring 2015 Vol 37 No 1 p. 23 and 26
After attending conferences and reading numerous articles that focus on personalized learning, I just have to say it. We're not there yet. Some of us are, but the focus keeps moving back to traditional teaching methods. There is also much focus on companies that boast about their technology that personalizes learning. I'm having an uneasy feeling that the rhetoric is really confusing people, and sounds too good to be true. Are these methods and programs doing what they're supposed to be doing? Are we talking a good talk when we say all the right things but then continue with the status quo? Or are some taking a good idea and framing it one way but actually implementing personalized learning  for the wrong reasons?
Why am I saying this? Because to do it right, we have to transform the whole system. There are educators that jump in head first, take risks, turn the learning over to their kids who become expert learners responsible for their learning. Teachers share their successes. We share their stories. It's great and the kids win. The teachers win. The school community wins. Then we hear from these same teachers stories of these kids moving to the next grade (the system may not be competency-based nor have all teachers adopting personalized learning) where they may go back to a traditional system with grades, tests, etc.
It's just not fair to do this to our kids. We give them opportunities to celebrate their successes, let them take risks, maybe fail and learn from mistakes, unlearn and learn again. Then when they move to another teacher or grade level, we take their voice and choice all away. I hear kids say "I just do what I have to do in school so I can get out." or this: "I just want to pass the tests." Oh my!!!
Grant Lichtman's article Take aim at innovation with students at the center is what made me think about all of this. He mentioned that technology is not innovation and stated, "As a group, schools are still mired in the mindset that technology is the innovation, not that it is a tool embedded in innovation." Lichtman also says  — it's about flipping the learning to what he calls it Flip 2.0 – turning the learning over to the kids. This is different than flipping the classroom. This got me thinking that it is not just the confusion about how to personalize learning. it is about coming up with a shared understanding of what personalized learning is.
Then there are districts that start in high school but they don't take the time to plan or involve the kids. It's about time to ask our kids several questions:
What is working and what is not working for you in school?
What advice would you give your teachers about how to teach you?
What do you need so you can learn?
How would you design school?
Personalizing learning means the learner owns and drives their learning. It means the teacher plays the role of facilitator and advisor. They become a partner in learning with their kids. Think about the current system. Personalizing learning turns everything upside down. Teachers don't know how to do this. They need help. All of us need to work together on this. Actually most of us experienced learning in traditional teacher-directed classrooms. In fact, during the last 10 to 12 years, the focus has been mostly on creating prescriptive curriculum that teaches to the test. We didn't involve the kids. We didn't ask them what they wanted. It's time to change that.
———
Update about this site:
I've been focusing on making learning personal for years and am co-founder of Personalize Learning, LLC with Kathleen McClaskey since 2012. I keep this site, barbarabray.net, so I can share from my own view what is happening with learning, to learners and teachers, and how the system needs to change. Everything I do with personalizing learning now is with Kathleen. Two heads are better than one and I have learned so much from her. We co-authored Make Learning Personal, published October, 2014 by Corwin Press and, yes, I highly recommend it if you want to make learning personal. Just had to say that :o)
So why am I writing this here? It's because I want to keep this site so I can do a little of my own ranting. I need my readers to go to our website, Personalize Learning to get the latest information and resources about personalized learning. All of the latest charts, resources, and even my services around personalized learning are on the Personalize Learning website.
After watching this video of Sarah, ZebraGal, I believe. I see Sarah. This video made me realize that no one needs to be invisible. She wrote and sang "Let it Go" from Frozen her way. She made this accessible with the words on the screen as she sang her version about having autism. I get her message. I see her.
I watched her video several times so I could really see her. Isn't she beautiful? Isn't she talented? I'm really hearing her message. And her message is clear about her autism.
We shouldn't see any disability first. Every person is unique and has something to share. All of us have a right to live, be here and become the best we can be. We need to stop staring at someone with a challenge and see them for who they really are.
The reason that I am so passionate about making learning personal is that education forgot the person. Someone like Sarah had to fit in to a system that taught to the average. She is different, like all of us. We are all different, but we had to fit in and become compliant. If you stand out, you are punished with poor grades, behavior problems, or bullied. The system is broken. It doesn't work for Sarah. It doesn't work for most of us.
Today anyone can write anything about anyone on social media. Luckily, Sarah took her story and song to YouTube. We need more of our children to share who they are this way. We need education to change so learners like Sarah can drive their learning. We need to see the you in you and help you fulfill your potential. That's what learning is. Sarah, I see the you in you and you are beautiful!
"Today you are you, that is truer than true. There is no one alive who is youer than you."
Dr. Seuss
2013 has been an interesting year. Education is being juggled more than ever between pedagogy and corporate control AND it is personal — for you — for me — for our children.
The marketing strategy of adaptive learning systems is that of 24/7 services that you can access at any time, in any place and at any pace. Education has adopted this language to reduce costs with business-like customization and streamlined productivity. The expectation is for a flexible education system that will also be more efficient and cost effective.
[Source: Rebirth of the Teaching Machine Through the Seduction of Data Analytics: This Time It's Personal by Phil McRae]
"The adaptive learning system crusade in schools is organized, growing in power and well-funded by venture capitalists and corporations. Many companies are looking to profit from student and teacher data that can be easily collected, stored, processed, customized, analyzed, and then ultimately resold".
There's money in it, but not for the right reasons nor for the right people: our children. I read this research by Phil McRae and it all made sense. This time it is personal. Corporations are taking our educational system, shaking it up and spitting out children who cannot think for themselves. They are calling it cost-effective but actually, adaptive learning systems are more costly than we know. It is all about the data this time. This is so dangerous for our society that I have to speak up and hope you speak up about this also. We need to fight for our children and their future and their data.
Framing adaptive learning systems as "personalized learning" has to stop.  This image "At School in the Year 2000" – a futuristic image of learning as depicted on a postcard from the World's Fair in Paris, Circa 1899 predicting what learning will be like in France in the year 2000. It is scary that this depiction is becoming true in the US and other parts of the world because we are being sold a bill of goods. Corporations and politicians are really good at framing what they believe we want to hear around a philosophy or concept that markets something they want to sell or use.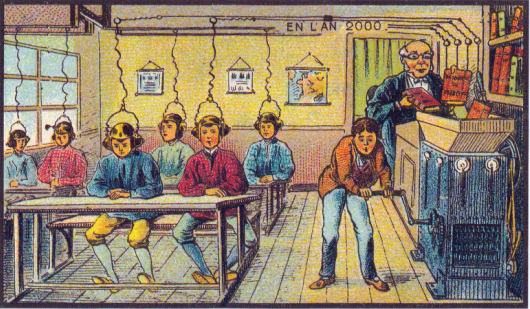 Image Source: Wikimedia Commons
The idea of children having their own personal choice how they will learn is being redesigned as increasingly data driven, standardized, and mechanized learning systems. Children should not be treated like automated teller machines or credit reward cards where  companies can take their valuable data. It is all about control and saving money. But who's money? Yes, technology can help personalize learning, but what technology and how? And who's data?
Let's be real: adaptive learning systems are for those things that can be easily digitized and tested like math problems and reading passages. They do not recognize or encourage high quality learning environments that are creative, inquiry-based, active, relevant, collaborative, and what our children need to be global citizens who are critical thinkers and problem-solvers.
We did this before. McRae reviews the history of using technology to control learning. It was all about feeding information to kids and controlling what they learned. B.F. Skinner did this in the 1950s where learning was about measurability, uniformity, and control of the student.
I grew up then and remember having problems understanding some concepts. That was mainly because everyone in the class was supposed to learn the same content at the same pace — too much content — too fast for most of us. I was provided an "intelligent tutor" outside of the classroom and sat in front of a screen answering multiple choice questions about what I read. I felt stupid and ashamed. It still didn't make sense, but the teacher didn't have extra time to spend with students falling behind.
I know I'm smart, but I felt stupid in many of my classes. If I went through that then, how many others felt like me? I wanted to give up, but one teacher and my parents believed in me. They spent time with me figuring out why I didn't get it. That's all I wanted — time with a real person who cared. We didn't have all the technology then that we have now or I would have googled it and figured it out by myself. The problem with the technology then was that it wasn't personal for me. It was the same worksheet I didn't understand in the first place now on a screen.
In the 1970s and 1980s, Computer-Assisted Instruction (CAI) became the next big thing. Programs like PLATO (Programmed Logic for Automated Teaching Operations)and Computer Curriculum Corporation (CCC) were building labs for schools for large numbers of at-risk children paid with Title I money and categorical funds. I remember these because I was asked as technology coordinator and professional developer to help set them up. Schools put these labs in any area that would fit. Some high poverty schools had them set up next to heaters and most were managed by a parent or para-professional. Teachers would rotate their classes in and out every week. Kids were so excited at first to play the games that supposedly taught concepts they needed to learn.
After about six months, kids got bored with the games and clicked on any keys just to get through the games. There was nothing relevant or made sense for them to be there. Kids are so much smarter than we give them credit. When they were in their classes, they felt like they could maybe ask questions about their learning. But, in the lab, there was no one or no way to question what or if that was the one right answer. After a few years, the labs were dismantled or used for other purposes. But all the money was gone so there was no one left to run the labs or train the teachers.
CAI is now back as "adaptive learning systems." Some of the old programs have been repurposed with more interactivity. McRae states it as "adaptive learning systems still promote the notion of the isolated individual, in front of a technology platform, being delivered concrete and sequential content for mastery. However, the re-branding is that of personalization (individual), flexible and customized (technology platform) delivering 21st century competencies (content)." [Source: McRae's research]
CCC's SuccessMaker is now Pearson's adaptive learning system. Other adaptive systems have repurposed content but they still promote building mastery with sequential content. It is similar to the old worksheets repurposed using new technology. Dreambox refers to Skinner's teaching machine and "adaptive learning as a computer-based and/or online educational system that modifies the presentation of material in response to student performance. Best-of-breed systems capture fine-grained data and use learning analytics to enable human tailoring of responses. The associated learning management systems (LMS) provide comprehensive administration, documentation, tracking and reporting progress, and user management." [Source: http://www.dreambox.com/adaptive-learning]
Source: U.S. Department of Education , Office of Educational Technology, Enhancing Teaching and Learning Through Educational Data Mining and Learning Analytics: An Issue Brief October 2012, page 30
Dreambox is now framing their system as "Intelligent Adaptive Learning" and others are starting to use the term "Intelligent Tutors." Companies are creating hundreds of white papers and studies to prove that adaptive learning systems benefit our children. Be careful! Read them closely for the messages being delivered. We need to be critical consumers for our children's sake.
McRae writes why we are so seduced for adaptive learning systems:
"First, it is seen as opening up possibilities for greater access to data that can be used to hyper-individualize learning and in turn diagnose the challenges facing entire school systems. Second, the modern teaching machines, and the growing reach and power of technologies, promises to (re)shape students into powerful knowledge workers of the 21st Century."
 As I said in my own situation, all I needed was time and someone who cared and listened to me. Today the technology is at our fingertips and children are using technology at younger and younger ages. We don't need to spend millions on these systems. Information is available when we need it now. We just need to teach our children how to acquire the skills that help them access, evaluate, and use the information they find. We cannot feed information to children from "Teaching Machines" like what was in the 1899 postcard and what Skinner projected. It didn't work in the 50s or the 90s. It won't work now. This is dangerous for our children and our society.
Our children need caring and compassionate classrooms that encourage independent, creative and collaborative work. Technology is changing rapidly. We don't need to go backwards and plug our children into machines. They will do that on their own but they need guidance in a different way. They need to know what is happening with their data. Schools protect student data, but adaptive learning systems sell the data to third party companies. Consider all the free social media and other programs available that collect data from you. You probably are aware when you sign in to certain programs, they know you and your data. But you might not have known that your child's data including social security numbers and health concerns are being sold to third parties. This is dangerous! It will get even more dangerous if the government funds it and encourages the use of adaptive learning systems without some oversight.
Teachers need to know how to facilitate a different kind of learning environment that is flexible, personal, and creative. Personalized learning means that learners own and drive their learning not the technology using algorithms based on performance that controls learning. Learners need to learn how to think on their own. This will not happen if adaptive learning systems control how and what they learn.
It is personal now! Let's all work together and do the right thing for our children. Teach them to learn, unlearn, and relearn. Show them that they can drive their learning so they can reach their fullest potential.
I came out to my car with my groceries and the car next to me was so close that I couldn't get in from the driver's side. I looked at their car to see why they did this? It was obvious. They wanted more room for themselves on their driver's side. It was all about them. They were oblivious to what another driver might need. So I climbed in on the other side and had to jump over the stick shift. Yes, I drive a manual. I got in and then thought about how people live now. It is all about them. "Me" not "you."
This is one reason why social media works. Facebook is about "you" building and connecting to "your" friends. It's about sharing what you like, liking what others do, and showing off what you do. Twitter is even more about "you." Yes, you can use these tools to think beyond yourself. You can use these tools to promote and share. But they became big because of how they are about "You." Even Linkedin as a professional tool is about building up "you" to the world. It's about how many connections you have and who these connections are. It's also pretty cool to be endorsed and recommended by certain people.
When it comes to being connected, we are more connected today than ever before. Almost everyone has to have a smartphone, especially teenagers. They have to be available immediately to their friends. Texting is now bigger than email and using the phone. That's old school. With unlimited texting packages, we can write back and forth whenever we want with as many words as we want. And we do.
According to Experian, in March 2013, U.S. smartphone owners aged 18 to 24 send 2,022 texts per month on average — 67 texts on a daily basis — and receive another 1,831. New studies are coming out with over 80 average texts daily. Mobile chats are starting to grow also.
Interpersonal relationships mean more to most kids than their own families. They check their phone often. This is why texting why driving is such a problem. Smartphones alert you when there's a text, a tweet, or some other response or nudge about almost anything. You are "always" connected to your network unless you turn your phone off. If they turn off their phones, they lose their connections. They have to answer right away or their friends will keep texting and eventually call. They are thinking "there must be something wrong if you are not answering ME."
Personalized is more than the phone though. Your shopping is "personalized" based on what you bought before, and you don't have to go to the store physically anymore. Everything is on Amazon or eBay. You are not tied to a television schedule anymore. You can watch what you want using Hulu or Netflix. Why get a newspaper, when CNN and USA Today are online? Everything is there at your fingertips when you want it. This is why traditional delivery of information is dying away. It's not because it isn't good; it's about supply and demand. The 16-24 crowd finds it old school. It is old school to have a landline phone, a newspaper, going to the store to shop, and "school" as we know it.
You knew I was going to get to this eventually. If we want to reach our kids and help them become global citizens, we need to use the tools they are used to. But we need to demonstrate how to use these tools effectively and guide them so they think beyond themselves. If we ban smartphones, we lose our kids. It's like the old saying "if we can't beat them, join them." But it's really not about kids only. I have a smartphone and text. I'm connected to my children and my friends. But I would never park my car so close that someone could not get into their driver's side of their car.
It is about our mindset. We can focus on learning that is personal, but we need to teach and model compassion, kindness and empathy. We need to demonstrate what it is to be part of a social  network and how to look beyond yourself. We also need to use these tools so kids can learn the way they learn best. Take advantage of them. But we also need to show them that they need to look up and out at the world. Connect with others to not only build connections but to share what you learn and learn from others. Teach the skills to recognize bias, validity and authenticity. Help them to be able to articulate intelligently and thoughtfully. This is their future and right now I'm a little concerned if they are ready for it.